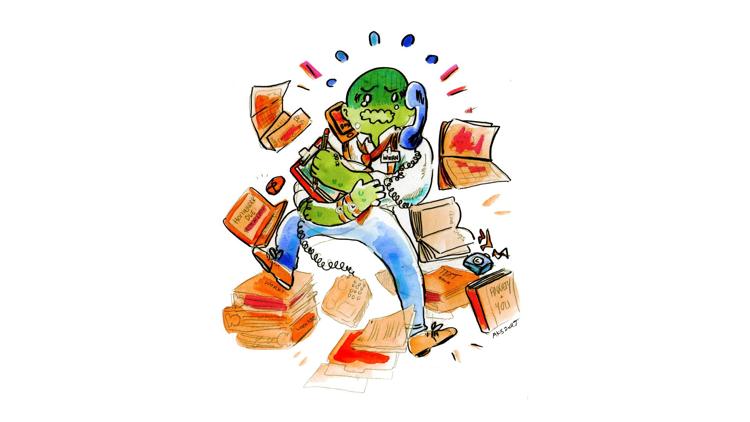 Getting an internship is heavily emphasized for the benefits that it has for your resume or creating connections in your future career field. Their importance is reinforced through major-specific email lists, posters, and career fairs — the idea of getting an internship is thrown into student's faces through every avenue possible.
There is so much hoopla over getting an internship that I never thought to wonder about what it would be like once I finally got one.
"For the most part, students are eager to find an internship," Virgel Paule, one of the academic advisers for the communications department, said. "I have the conversation of what your schedule is looking like and if the load is something they can handle [with students frequently]."
Last December, I was hired on as a communications intern at a nonprofit in Seattle. As a sophomore, I remember thinking that I was lucky to have secured an internship so early on in my college career.
At the time, I had committed to working 20 hours a week, the maximum that students are allowed. It didn't quite fit in with my schedule Monday through Thursday, but I was going to be having Fridays off, so I would be able to condense the majority of my hours into one day of the week — or that was the plan, at least.
My first day of work, I was thrown into the mix of a massive social media campaign. I barely had an orientation and didn't know anyone in the office besides my boss and the HR guy who hired me. I had no idea what I was doing or who I was doing it for.
That being said, I learned pretty quickly. I knew that I had to be able to stay afloat at what I considered my gateway to my future job. Looking back on this internship, I am pleased with the intimate knowledge of business that I acquired from this experience.
It was exactly as the email lists and the posters and the career fairs said. Never tacked onto the posters, though, is the side effects of an internship.
I was working in an office building, so I had to work between normal business hours of 8 a.m. to 5 p.m. Taking 8:30 a.m. classes or ones in the middle of the day wasn't conducive to working within these hours. But to work there, I had to figure out how to make my schedule around these hours.
Many days, I was out the door at 8 a.m. and not getting back to my apartment until 6 p.m. I felt like I was working a full-time job, but that was just the combination of taking classes and being an intern.
It was tiring to commute between campus and the office, and it was expensive to keep buying food on the go since I never seemed to be able to pack a lunch. I was lucky enough to secure a position that was paid, so it evened out in the end, but that isn't always the case.
Trying to fit in completing my homework was miserable. All I wanted to do after coming home was sleep, but that wasn't my first priority. I often sacrificed sleep in order to attend to my school and internship responsibilities.
That being said, I was fully prepared to have this schedule. I just didn't fully understand what it was going to look like.
"Students understand what a full-time schedule is," Paule said. "You have to paint the picture of having a part-time job and then adding that to your current course load."
Internships are a fantastic way to orient yourself with what is waiting out in the real world once you graduate, but first you have to make it to graduation. I stopped taking care of myself as much as I should have during this stretch of time because I had too much on my plate.
The lessons I learned were invaluable, and I will be carrying them with me as I move closer to graduating college and finding my place in the job market. The trade-offs I made were worth it for me, but I wish I would have known what I was getting myself into. It is hard to ignore the idea of getting an internship, but I urge you to think about what having an internship while taking classes may look like before accepting a position.  
Reach Opinion Editor Rachel Morgan at specials@dailyuw.com. Twitter: @rclmorgan
Like what you're reading? Support high-quality student journalism by donating here.