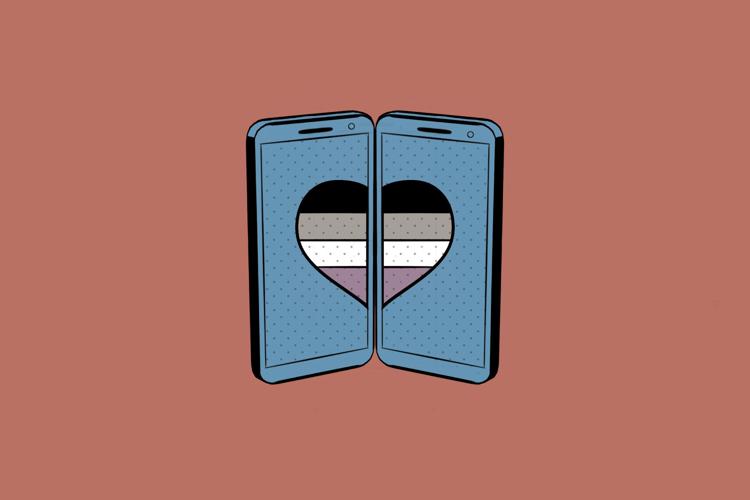 I first learned about asexuality in high school when my friend Stelle read a poem about their relationship with their ace/aro significant other. It'd be a few years after that before I realized that I, too, reside somewhere on the ace spectrum.
It still feels weird to say that about myself, like I'm encroaching on a space that isn't mine to claim. True, there isn't a single person on the planet I've ever wanted to see naked, and sex sounds stressful and kind of gross. But I also like going on dates and probably want a relationship at some point. (Also, masturbating's chill, I guess.)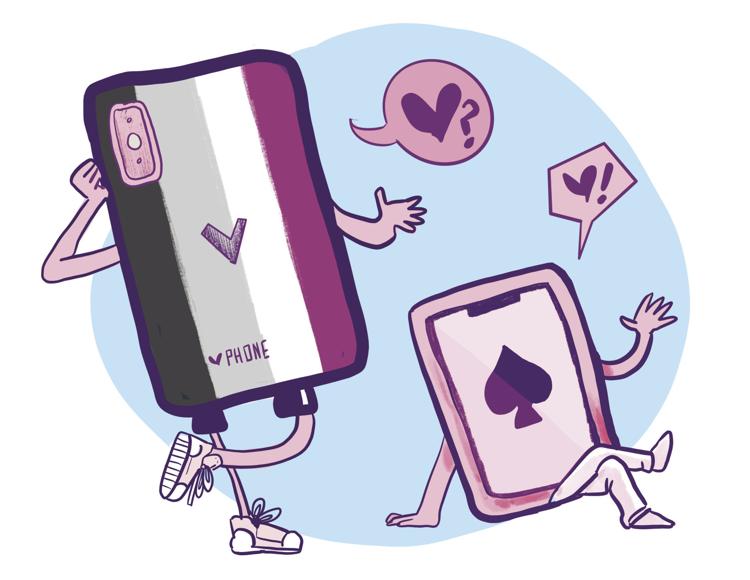 Despite having a considerable and diverse online presence, the ace communities tend to be pretty atomized in the mundane world, even at a fairly LGBTQIA+-friendly campus like the UW. And I'm a sheltered Muslim kid, so I was screwed right from the get-go.
This became apparent when I went to write this piece. Pretty much everyone I interviewed for this story is a friend of mine, but I know them from fairly disparate social circles. They also occupy a fairly similar range on the ace spectrum: demisexuality, where sexual attraction is only possible after a strong emotional connection between two people is made.
Michael is an environmental science major and one of the first friends I made at the UW. We'd taken ASTR 101 together, and in keeping with the tradition we'd established freshman year, I met up with him for some hot chocolate at the DM and an interview.
Originally from California, Michael first started to realize he was demi in high school, just in talking to his friends about their experiences hooking up. Where they could just meet someone and have sex with them that night, for Michael, it took time for him to get to know someone before a physical attraction took hold.
"I heard from people that they have so much fun when they do this thing where they hook up with somebody at a party and ... I sort of got to thinking, 'Why does that not appeal to me?'" he said. "These're people at parties who I think are ... physically beautiful, but I still didn't feel that … want or need to be physically intimate."
That disconnect Michael described — between his experiences and those of his friends — is one that echoed throughout my own experiences, and the stories of the other folx I interviewed: something that we couldn't quite place, but knew, all the same, meant we weren't entirely straight.
This is something that rang particularly true for Alise, an undergrad pursuing a biology and psychology double-degree who I first met after casting her in the first show I ever directed. I met up with her at Oasis Tea Zone for some tea.
Growing up, Alise had a sense she wasn't straight but didn't really have the word to describe her sexuality. Initially, she settled for "pansexual," but after seeing a webcomic about demisexuality and its place on the ace spectrum, she took on that label as well.
That's another thing: asexuality doesn't exist as a binary between those who feel sexual desire and those who don't. Alise conceptualizes her sexuality along five fairly fluid facets: who she's aesthetically attracted to, who she's sexually attracted to, who she's romantically attracted to, and the degree to which she experiences each of those latter two attractions. 
"I have a capacity to be attracted to people regardless of their gender, but also I just have very little attraction within me," she said.
Alise and Michael are currently in committed relationships, but I did talk to them about dating apps. Though the responses they would get were worlds apart (Alise is an Asian American woman, Michael is a bearded white man), one commonality between them was just how stressful it felt to judge people based on a short bio and a few pictures.
"It stressed me out to be like, 'What if this's this person's first week on Tinder, and they haven't cultivated their profile well enough, and I just swiped left on them and missed a good connection?" Alise said about the one day she was on the popular dating app.
This is not a universal experience for aces, though. Andy is a junior I know through the Undergraduate Theater Society (UTS). Like me, Andy is someone with a conservative-religious background where talking about sex wasn't encouraged. Also like me, they're primarily interested in women and nonbinary folx (with a present, if negligible, interest in men). Unlike me, Andy is not a cis man, so their experiences are much different.
"I've found that when I talk to people who use Tinder and are seeking things with guys, it tends to be more sexual," they said. "I've never actually had to worry about that, and I don't know if it's because the culture of dating women is like women don't expect sex, or ... I feel like if I was going to date a guy, I'd be worried about that." 
I set out to write this article mostly because I hoped that by talking to other aces, I could alleviate some of my own confusions about my identity in relation to dating. As much as I want to be able to unequivocally declare my asexuality, the truth is I still have questions. Another reason I wanted to write this piece was that I know I'm not the only one who feels the way I do, and I'm hoping that by seeing these similar and diverse experiences, we can find some peace with those questions.
Dating is confusing enough on its own. Dating while queer only ups the ante, and dating while ace is no exception to that. At the end of the day, all we can do is try our best. Life is short and we'll probably all die in the 2030s because rich people refuse to stop causing climate change, so we might as well have some fun with people we want to have fun with.
Reach writer Shahbaz Khan at specials@dailyuw.com. Twitter: @JadeMoonSpeaks
Like what you're reading? Support high-quality student journalism by donating here.