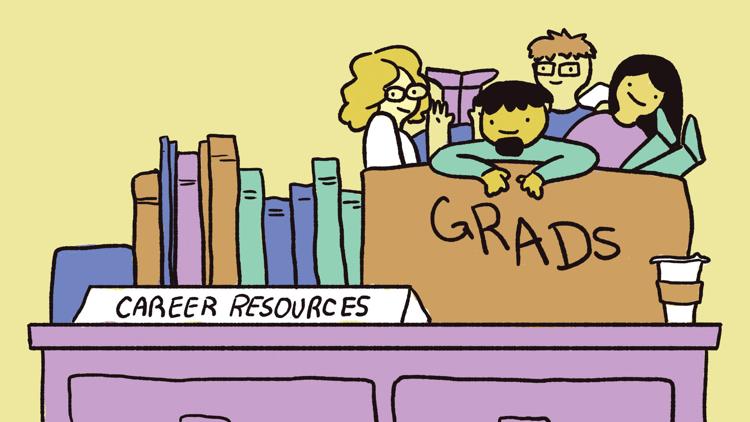 Grad students provide a wealth of knowledge; all you have to do is ask.
As of this past fall, there were 10,738 graduate students enrolled full-time at the UW. What most undergraduates don't know is that their own TAs and other graduate students in their departments are untapped resources for ideas and advice about careers.
With such a vast population of post-undergraduate professionals working toward a variety of careers and a variety of goals, there is a graduate student out there who has a similar path as yourself. Especially for questions about careers in research and academia, graduate students are a deeply knowledgeable source, owing to the UW's tier-one status as a research institution. Additionally, these connections that students make could also be valuable down the line.
Anna Swan, a Ph.D. student in the department of communication, said that her mentorship of students has been less formal. According to Swan most of the career insight she gives is usually related to PR internships and advice about future internships.
"I always enjoy talking to students about their interests and I try to encourage them to follow their passions," Swan said.
Swan researches social media and studies critical cultural theory. Her most recent publication focused on K-pop and fan reactions.
Swan emphasized that she also frequently recommends classes and certificates to obtain based on student interests. Yet, Swan noted that her primary area of expertise can be utilized when students ask her about her experience as a graduate student.
"I'm always thrilled when [undergraduates] ask me about graduate school or want advice about going to grad school themselves," Swan said. "I feel like I have a lot of practical knowledge about it that I'd love to share."
Similarly, Sarah Stansfield, a Ph.D. candidate in biological anthropology, said that when she was an undergraduate, she received a lot of career advice from her professors who served as mentors.
"Asking your favorite professor if they have time to talk about grad school or to edit your application essays can be really helpful," Stansfield said.
Stansfield focuses on mathematical modeling of HIV and statistical analysis of disease spread. She currently works as a mentor for undergraduates in the UW Research Computing Club's undergraduate program, and said that this process of being a mentor was very rewarding in demystifying how research is done.
Both Swan and Stansfield said that they are asked by students about their career paths, but not often. Since graduate students have a wealth of practical knowledge about being students, navigating university life, and understanding what it takes to succeed, undergraduates should take advantage of the advice and connections they can provide.
As for general advice, Stansfield advocated for trying as many challenging classes as possible before deciding a major which could eventually lead to a career.
"I changed my major twice in my undergrad program," Stansfield said. "Once in freshman year and once halfway through my junior year and the result was graduating with a double major I was really passionate about and proud of."
In the same vein, Swan commented about strategies for success by taking risks and evaluating the results.
"I'm not always good at practicing this myself, but I strongly believe in taking risks and making sure to value the process," Swan said. "We're all often looking toward the future and trying to plan out our strategic next steps, which can be smart but can also prevent us from living in the present and really figuring out what we value and what we enjoy."
Career planning is important, though part of the journey is enjoying the moment and seeing what you fall into. As both Stansfield and Swan articulated, dropping in on your TA's office hours for advice can be an invaluable resource.
Reach writer Thelonious Goerz at specials@dailyuw.com. Twitter: @TheloniousGoerz
Like what you're reading? Support high-quality student journalism by donating here.