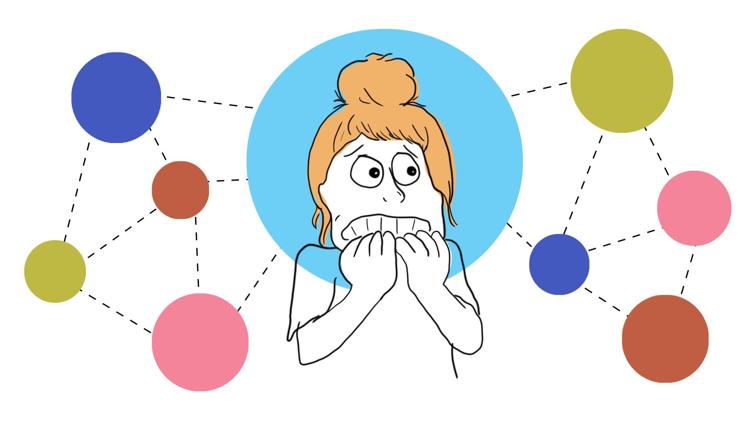 There are a lot of good reasons to dislike networking. We may feel shy approaching someone we don't know. We don't want to take advantage of someone's time. We just don't know what to say. As students, we've been pressured over and over again on how important networking is when it comes to landing a job. While socializing may come easy and natural for extroverts who absorb energy as they interact with others, for introverts who dislike small talk, networking can be extremely draining.  
Susan Terry, executive director of the Career & Internship Center in Mary Gates Hall, said this means that you have to be prepared for networking, and that preparation is a critical component to lowering your stress level.
According to Terry, preparation doesn't mean that you need to know exactly what you want to do in the future. It's more about understanding what you have accomplished to date, having some general idea where you want to put your strengths, and you start from practicing with people with low risk — family members, friends, friends of friends.
"Preparation involves scripting yourself, writing down what you want to say, and practicing with people you're comfortable with as a starting place, then the conversation goes into a more organic one," Terry said. "You don't want to start off with the place you really want to be [at] or the person you really want to talk to."
Chisom Linda, a senior majoring in communication, said that one thing that helped her with networking was to introduce herself and have a couple talking points ready to go.
"For example, 'Hi, my name is __, I'm majoring in __.' Then they'll introduce themselves and probably even ask questions about what I'm studying or my career path of interest," Linda said. "If they don't, have follow up questions ready: How did you get to your current position? What advice do you have for current students? What's an average day at work like?"
Linda said that if some of these questions seem uncomfortable, try to find some common ground, like talking about sports teams or current events (stay away from politics or religion, though).
"The most important thing to keep in mind is that although networking is a powerful tool, it's also really just a conversation and the more relaxed you are, the easier it'll be," Linda said. "We have an advantage as students, because employers, grads, alums, etc., always want to help us. So, take a deep breath and just go for it. There's really not much to lose."
Geena Letrondo, a UW Foster alum now working as a Procurement Agent at Boeing, said that networking is oftentimes just as awkward for them as it is for you.
"I'm extremely introverted so I thoroughly understand the struggle of reconciling the act of networking with that part of my personality," Letrondo said. "I can honestly say that networking is awkward for 90% of people 90% of the time and that's OK. Feeling weird or awkward is extremely normal for most people no matter how much they network, so it shouldn't discourage you. It just means that you are still looking for what you have in common so you can have a real conversation."
One important thing to remember when you feel stressed about networking is that nearly everyone does it. Rather than treating the professional as someone you want to impress, focus on relationship building.
"There's usually an empathy level at play," Terry said. "Bottom line is, people want to help people, and you kind of have to take the risk to see what goes on. I always tell my students to say the following: 'Although I am looking for an internship, I don't expect you to land me a job, and I don't expect you to get me an internship. I am just exploring.'" Terry added that doing so takes the onus off of that person to try to figure out your life.
Job searching is like a giant puzzle: there are multiple elements that come to play. It is true that networking varies depending on the individual, but as we break down and demystify the notion of "networking," it shows that this is not something that only extroverts can excel at.
Reach writer Kelsey Chuang at specials@dailyuw.com. Twitter: @chuang_kelsey
Like what you're reading? Support high-quality student journalism by donating here.