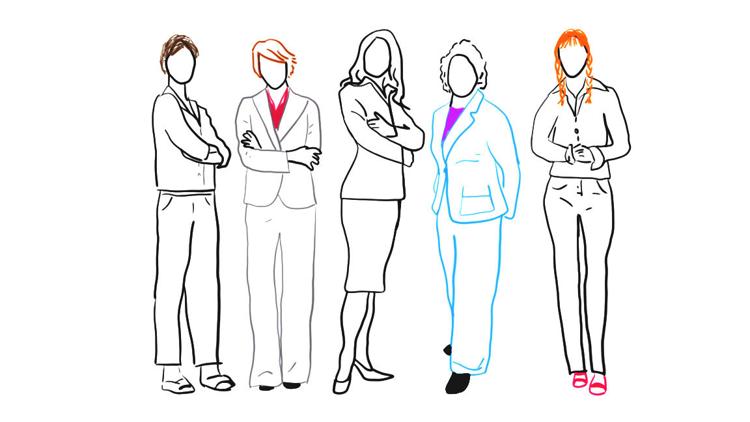 By Alyson Podesta The Daily
A lot of big career steps rely on being comfortable reaching out to people, something which feels inherently awkward. For many of us, this can feel excruciating. So how do you summon confidence when you're feeling anything but confident? Maybe you've been told to "fake it 'til you make it." Maybe you've never even acknowledged the awkwardness in the hopes that it would eventually just go away, or maybe you avoid networking events and career fairs because these situations can be uncomfortable.
Have no fear: Even your most outgoing friends have probably felt nervous in a new professional setting. There are many ways to deal with the awkwardness — if not to erase it, then to embrace it.
Job shadowing can be one of these helpful ways for students to determine whether or not a career field interests them. For most people, job shadowing entails making contact with someone in their desired position and setting up a time to observe that person at work. This can vary heavily: From a student independently reaching out to someone whose work they are interested in, to a professional inviting a student to come and visit their place of work.
"Job shadowing offers students a firsthand look into something that they most likely have never experienced before," Alison McCarty, a career coach and the assistant director at the Career & Internship Center, said. "It's not as detailed obviously as an internship, but just the opportunity to physically be in the workplace setting."
The same goes for other aspects of career-searching. Another part for most students is networking, a word that may elicit panic from many people. Job shadowing can be a step toward networking, too; you have the opportunity to meet people at a workplace and the person you shadow may be inclined to introduce you to their colleagues.
In an unfamiliar setting with unfamiliar people, however, this positive experience can feel downright awkward. This may be a result of the nature of the situation. Maybe you're the only student in a professional workplace and you feel like you stand out. Or maybe it just comes from the fact that this may be a new kind of experience for many of us.
"I think it's like the first unprescribed thing," McCarty said. "I mean, there's just these set steps every time you're in school, and that career piece or even that internship piece is an unknown. You have no idea what to expect. There's no syllabus, there's no teacher who's going to be there and help you through it."
Despite the lack of a cohort of classmates to move with you for the first time in your post-graduation life, you're not alone. It may feel like you're the only one feeling lost or uncomfortable, but you definitely aren't.
"The impostor syndrome is real, right?" McCarty said. "Everyone experiences this. I think that everyone, at some point, does get nervous. And so just knowing that you're not alone in that feeling and that people on the other side are probably expecting you to be a little nervous [can be helpful]."
McCarty also suggested trying out deep breathing techniques and positive affirmations to center yourself. Often, if you can overcome nerves, you can overcome the awkwardness. "I personally am a fan of just embracing the awkward," McCarty said.
Another unconventional strategy may be to put it out there. For example, if you're shadowing someone for the first time, you can let them know that you're a bit nervous and excited for the opportunity. Just admitting you're a bit uncomfortable can help you cope with it.
Reach Special Sections Co-Editor Alyson Podesta at specials@dailyuw.com. Twitter: @alyson_podesta
Like what you're reading? Support high-quality student journalism by donating here.