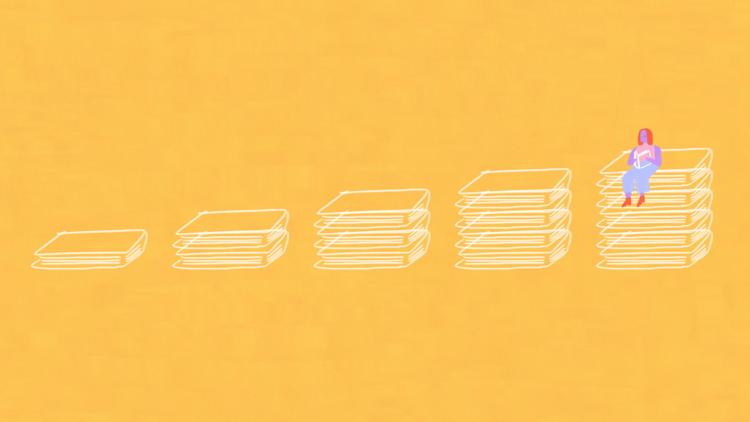 Halfway through my college career, I was a public health and biochemistry major who was on the road to medical school. However, I knew even after taking a full load of organic chemistry, biology, and calculus classes, I wasn't fulfilled by my work. All I wanted to do was fast forward 10 years to the point when I could listen to people's stories as a full-time career. I later realized that I wouldn't have to wait so long to pursue my dream career, and spending some extra time as an undergraduate could help me get there.
I was at a crossroads. If I changed my major to human centered design and engineering, I'd need to spend a fifth year in college. If I stayed on my current path and waited until graduate school or a future career change, I'd get to graduate with the friends who I began college with, work a year earlier, and avoid the stigma that often comes with "taking your time."
The decision to change my path was a long road, but it started with me realizing that I deserve to be excited about my work every single day. Since the beginning of my college career, I was already working as a journalist and trading study groups for informational interviews with educators and office hours for events about the need for representation in media. In these conversations, I felt like I was finally doing the work I loved: hearing people's stories and amplifying them through writing. However, I seemed to work double-time to be pre-med in the classroom and pursue my interests in journalism and writing outside of class. I knew that I wanted to do more of this work in my classes, but chemistry lab and vulnerable conversations rarely went hand in hand.
Changing my major helped me pursue the fulfilling work of storytelling in and out of the classroom. I'm so grateful that I took the extra time to change my major because it's given me more time to take advantage of all the resources at the UW. Thanks to the flexibility that comes with my fifth year, I was able to double major in human centered design and engineering and comparative history of ideas, study abroad in Prague, write a thesis, get published in The Seattle Times through the Education Lab and get funding from the Mary Gates Research Scholarship. I took classes outside of my major that enabled me to pursue my interest in educational equity, memoir writing, and digital storytelling. I also had another summer to be an intern and focus on exploring the work of storytelling at Microsoft and find a job that I'll pursue after graduating this spring.  
I recognize that not everyone has the ability to spend another year of college. It's especially pricey for out-of-state and international students, and a lot of full-tuition scholarships only cover up to four years. Because I had the financial means, I can confidently say that taking a fifth year was right for me because I was able to do so much more in college and focus on being a full-time learner.
College doesn't have to a race to a career, but a journey to get you on the path to something that fulfills you. This has come with its challenges. People have commented about how I'm unfocused or taken too long to find my passion for writing. The truth is that everything takes as long as it needs to. But for every question about why I haven't graduated yet, there are so many more moments when I know that I made the right choice: when I interview women of color who are powerful educators and find ways to lift while they rise; when I realize that many of my role models took a little extra time to master their craft; when I talk to underclassmen and help them find ways to bridge their passion in engineering, writing, and social impact.
I'd rather spend five years in the right major than four years in one that didn't get me closer to my career as a writer.
Reach reporter Aleenah Ansari at specials@dailyuw.com. Twitter: @aleenah_ansari
Like what you're reading? Support high-quality student journalism by donating here.