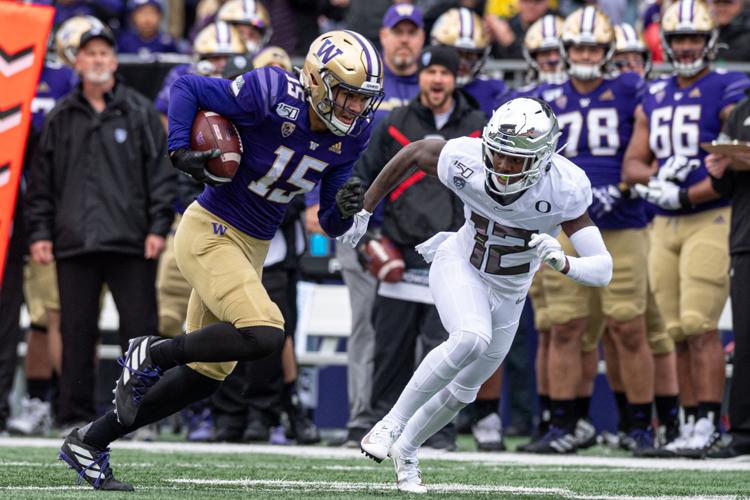 They've waited in the wings all season, but in the No. 25 Washington football team's 35-31 loss to No. 12 Oregon, the young wide receivers on UW's roster finally got a chance to produce. 
A hobbled Aaron Fuller and Chico McClatcher meant that players like Puka Nacua, Marquis Spiker, and Terrell Bynum had to shoulder a lot of the receiving load. 
And they delivered, in spurts. 
Hauling in a career and game-high six receptions, Bynum finished with 43 yards, while Nacua scored his second career touchdown on 43 yards of his own. 
"He made some tough catches," head coach Chris Petersen said of Bynum. "He's got strong hands, he's a tough kid, and he's a guy who's going to keep growing and be more of a factor in every game, I think." 
Heading into the game, Bynum said he had no idea he'd be in line for more targets, but when given the chance, he excelled with a 100 percent catch rate. 
"I've been grinding for a while, waiting for my opportunity," Bynum said. "Today was the day to show it."
The much-maligned Washington receiver room put on one of its most well-rounded games, especially without Fuller on the field. Quarterback Jacob Eason spread the ball around to six different receivers, with Nacua, Andre Baccellia, and Jordan Chin hauling in touchdowns. 
"I think we got to show how good we are, from top to bottom," Bynum said. "I think we're finally showing we're a good receiver room."
It's unclear to what extent Fuller is injured, and after McClatcher went down with a lower leg injury and was seen in a walking boot on the sidelines, these younger receivers will need to step up for the Huskies. 
While seeing action this year, redshirt freshman Marquis Spiker caught his first pass in crunch time for the UW. The 6-foot, 3-inch receiver got significantly more playing time than he had in previous weeks, along with Nacua and Bynum. After Spiker's catch set up a fourth-and-short, an Eason slant to Nacua fell incomplete to essentially ice the game. 
"We just have to keep playing," Petersen said of the final UW offensive play. "Puka is doing some great things. We just have to keep playing, keep grinding. We'll be fine."
Heading into the bye week, the UW receivers are coming off perhaps their best game of the season, and certainly their best in recent weeks. With the time off, the Huskies will look to play even faster, and produce more for an offense that desperately needs them. 
Reach Sports Editor Alec Dietz at sports@dailyuw.com. Twitter: @AlecDietz
Like what you're reading? Support high-quality student journalism by donating here.