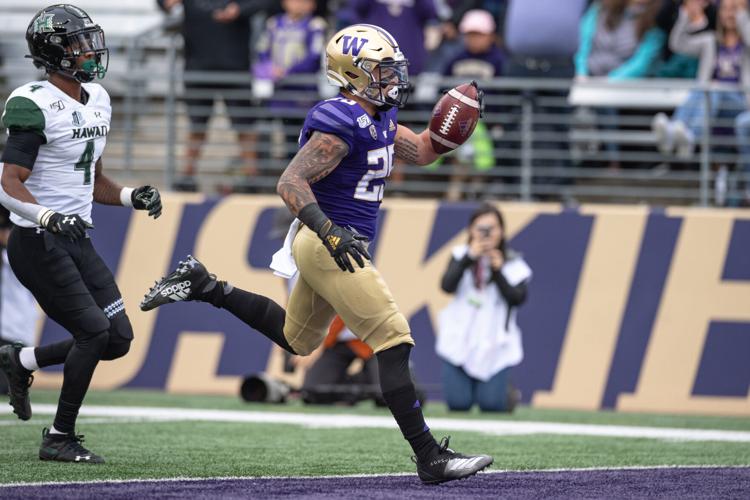 Jimmy Lake has the same philosophy for running backs as he does for boxers. 
"They don't let heavyweight fighters fight lightweight fighters for a reason," Lake said. "The heavyweight fighter is going to win."
Those are the words Washington football head coach Jimmy Lake used at a Friday press conference to describe the stature of his running backs, six of which weigh over 200 lbs.
"We like these big backs that like to pound the ball," Lake said. "That makes it really hard for defenses to tackle, especially in the fourth quarter."
Despite losing a 1,000-yard rusher for a second straight season in Salvon Ahmed, the Huskies are primed for another successful year on the ground with a fresh group of running backs led by sophomore Richard Newton and redshirt senior Sean McGrew.
Newton, who measures in at 210 lbs, fits the bill as one of the heavyweight backs that Lake described. The sophomore surprised many last year with a 498-yard, 10-touchdown campaign and bruising rushing style that complemented Ahmed's quick, slashy running.
Now, with Newton getting all the attention, McGrew enters his fifth year under the radar. And although he's considered by some to be undersized at 5-foot-7, the senior doesn't shy away from contact. In his junior year, McGrew averaged 6.2 yards per attempt, best on the team by nearly an entire yard. He also leads all returning running backs in receiving yards, having caught 10 passes for 38 yards during the 2019–20 season.
While the Huskies may not have a clear-cut starter heading into next season, McGrew doesn't see it as much of an issue, considering the depth that the Huskies have — including a collection of unproven talent working with running backs coach Keith Bhonapha.
"Honestly I always look at the running back position as a running back by committee," McGrew said. "We always call it the stable, because at any one moment you can let one of us loose and we're going to take over a game. I know regardless, whether I'm starting or not, I'm going to get my touches and do as best I can to help this team win."
Redshirt freshman Cam Davis is another potential factor, despite only playing in three games last season. The former four-star from California impressed coaches with his physical style and added seven pounds over the offseason.
"Cam Davis, very smart, very tough player," Lake said. "He's another big back that can catch out of the backfield, knows our protections, and runs hard. I'm really excited about Cam Davis, and I'm really excited about Bhonapha's stable. We've got some talented guys in that room. It's a competitive room, and they're all going to be fighting for some playing time."
Offensive line shaping up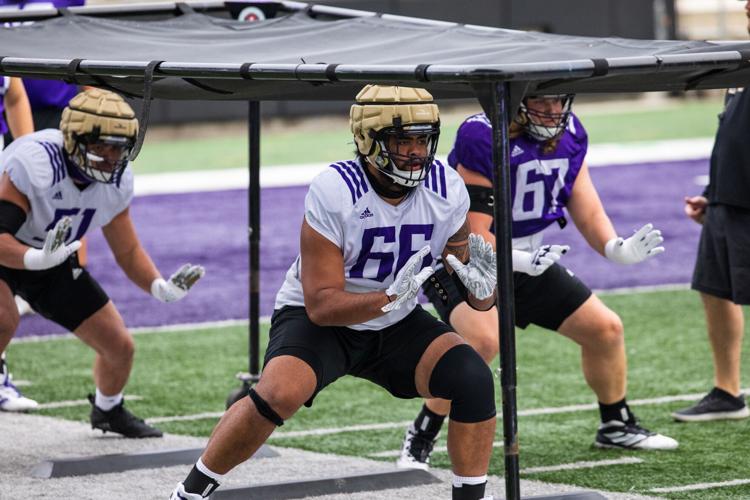 Returning only two starters to the offensive line, Washington has moved junior Jaxson Kirkland to left tackle and senior Luke Wattenberg to center in hopes of bolstering up the key positions along its line.
Henry Bainivalu started two games last season at right guard, and the junior will also likely slot into that position heading into 2020.
Outside of Kirkland and Wattenberg, expectations may not be sky-high for the Huskies in the trenches, but offensive line coach Scott Huff was quick to point out the progress of his young players.
"There's good days and there's bad days," Huff said. "The encouraging thing is that young guys, when they make mistakes, they're quick learners and they're picking up from it. It really is a work in progress, we are trying to move guys around and see who fits where. They're young but I like the progress that they're making."
Lacking any starting experience outside of the trio of Kirkland, Wattenberg, and Bainivalu, Washington will look for young players such as Victor Crune and Ulumoo Ale to step-up.
When asked who has impressed during fall camp thus far, Huff was quick to mention Crune and Ale at the top of his top-10, but said that everything was still to be determined.
"We've got to be ready to move guys," Huff said. "If guys are deserving of playing, we will find a role for them, and we know that we have to continually develop our guys."
Other Notes
Although he didn't give a distinct answer, sophomore cornerback Trent McDuffie hinted at the possibility of a role on special teams when asked if he would return kicks in 2020. 

"I mean, I'm just gonna say you guys are just going to have to see that one for yourselves during gameday, to see what I have in store for you guys," he said
Reach reporter Anthony Edwards at sports@dailyuw.com. Twitter: @edwardsanthonyb
Like what you're reading? Support high-quality student journalism by donating here.