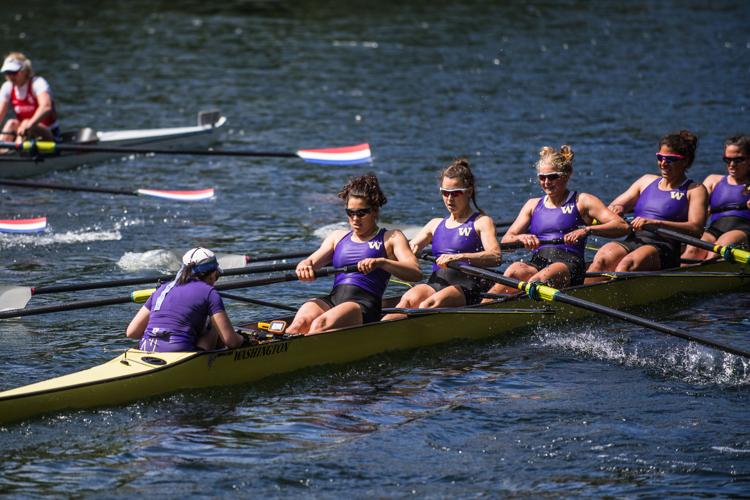 A year ago, the Washington women's rowing team made history by becoming the first crew to sweep all grand finals at the NCAA Rowing Championships. 
While it's hard to expect another clean sweep, the Huskies will look to capture their fifth NCAA rowing title in program history as the Championships start Friday in Nathan Benderson Park in Sarasota, Fla. 
The championship will feature 22 teams. Automatic bids were awarded to 11 conferences, while the other 11 slots were at-large selections. To qualify for the championship, teams must field two boats of eight rowers (varsity and second varsity eights) and one boat of four rowers (varsity four). 
For the 2V8+, V8+ and V4+ races, the 22 teams are seeded into four heats. Washington earned the top seed for each event; California is No. 2 in the 2V8+ and V4+, while Stanford earned the second seed in the V8+ (Cal is No. 3). A complete list of seeding can be found here.
The racing begins just after 8:00 a.m. Friday, starting with the first heat of the Division III 2V8+. Washington will go up against Gonzaga, Yale, Syracuse, and Princeton in the first heat of the first varsity eight, as Division I racing kicks off at 9:00 a.m.
Teams earn points according to their final placing in each race. The team that accumulates the most total points is crowned NCAA Champion. Last year, Washington defeated Cal 132-123, earning its first NCAA Championship since 2001.
A livestream of the women's racing this weekend will be available on the NCAA website.
Reach contributing writer Jordan Duncan at sports@dailyuw.com. Twitter: @JordanDuncan43