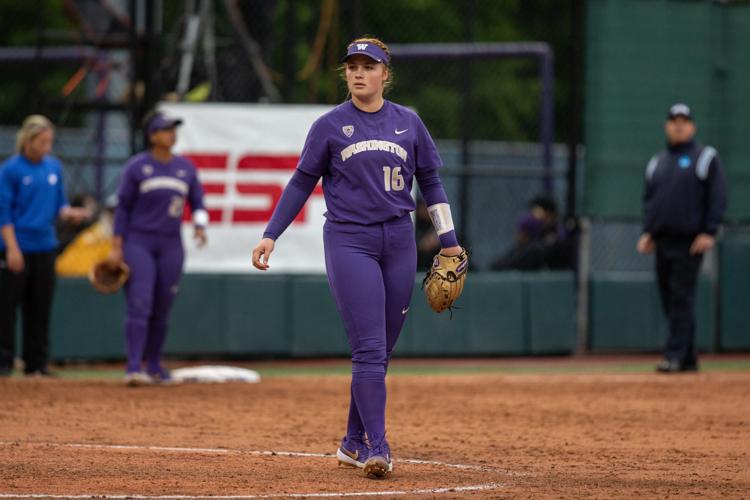 The No. 3 Washington softball team started off its super regional against No. 14 Kentucky on a winning note, beating the Wildcats 3-0 to get within one win of a trip to Oklahoma City.
"Everybody's even at this point, and you just have to fight for every single thing you're going to get," head coach Heather Tarr said. "We're here to do that, as long as it takes."
The Huskies (49-7, 20-4 Pac-12) and Wildcats (36-23, 14-10 SEC) will face off again Saturday at 7 p.m. Kentucky needs to win to extend its season to an if-necessary game Sunday. A UW win would send the Dawgs to the Women's College World Series for the third straight season.
Once again, the Huskies stuck to the tried-and-true blueprint that's done so much for them this postseason: get enough offense from the top of the lineup, and let the pitching do the rest.
Friday evening, it was senior Taran Alvelo's turn in the circle to start, but two outs into the fourth inning, Kentucky had runners on the corners, and Tarr pulled the trigger a little earlier than she has before.
"We have a good feel for the game," Tarr said. "Obviously, you've got two really good pitchers that can combine well together in the game. We felt the need to do that at that point, and it worked out for us."
Pitching coach Lance Glasoe stepped out of the dugout and pointed at the bullpen. Out jogged sophomore Gabbie Plain, fresh off her fourth career no-hitter.
Four pitches later, Plain was jogging back to the dugout with a smile on her face after striking Mallory Peyton out. Alvelo was one of the first Huskies to meet her with a hug.
Kentucky threatened again in the fifth, but Plain got SEC Player of the Year Abbey Cheek to ground out with two runners on to escape the jam. The same happened again in the sixth, but a pair of grounders got Plain out of it.
The Wildcats ended up leaving nine runners on base, seven against Plain.
"She's very good at being present in the moment," junior shortstop Sis Bates said. "She just a competitor, and she's always like that."
Plain (22-2) earned the win, but the UW pitchers split the game nearly identically down the middle. Alvelo threw 3.2 innings, Plain threw 3.1. Both faced 15 batters, walked one, allowed three hits, and struck out three.
"You've got to go with have, execute, pitch, compete, and not be so fragile that if somebody hits you or gets on base, you can't recover," Tarr said. "It's a game, you've got to play it. If it takes us 600 more pitches to get through it, that's what it's going to take. We'll be ready for it."
Washington took the lead early, scoring in the first inning yet again after doing so in every game of regionals. Bates led the frame off with a shallow double down the the left field line, went to third on a wild pitch, and came home on a sacrifice fly off the bat of freshman Sami Reynolds.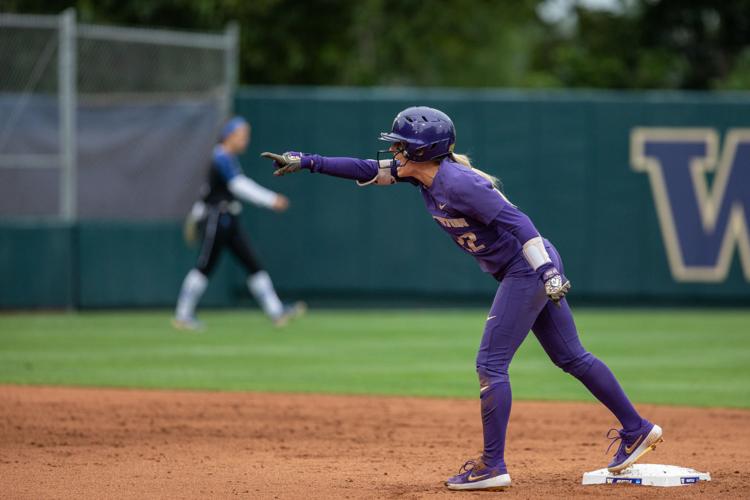 The Huskies added another in the bottom of the third, when a two-base error on a single put Amirah Milloy on third base and Bates drove her home.
Morganne Flores made it 3-0 in the bottom of the fifth with her 22nd home run of the season and fourth in three games, a solo shot over the wall in left field.
"I'm pretty comfortable, yeah," Flores said. "Just trying to see good pitches and put good swings on good pitches."
Bates, Flores, and Reynolds combined for four of Washington's five hits on the evening.
Game 2 will begin at 7 p.m. and air on ESPN2.
Reach Sports Editor Josh Kirshenbaum at sports@dailyuw.com. Twitter: @J_Kirshenbaum
Like what you're reading? Support high-quality student journalism by donating here.