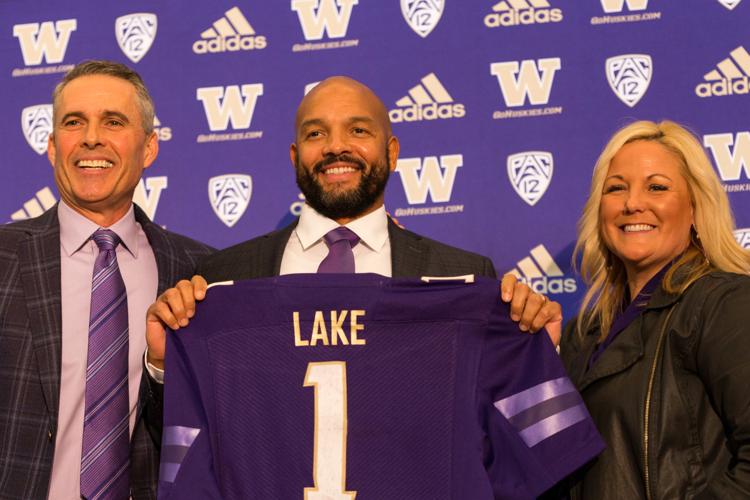 Throughout his introductory press conference as head coach of the Washington football team, Jimmy Lake made his vision clear following the Chris Petersen era. 
Having served under Petersen since his time at Boise State in 2012, Lake has been tasked with carrying forward Petersen's mission and culture, while also adding his own spin. 
"I know the recipe, I've seen the recipe, and I'm going to copy the recipe," Lake said.
"What's going to be different is that I am passionate about X's and O's. I am passionate about football strategy. It's what has driven me in the beginnings of my career … that's really what I want to do is leak that passion over into all three phases."
So while Lake has gathered what he calls the "secret sauce" in his eight years from Petersen, the first-time head coach will still introduce his own methods to the strong foundation that has been built under the legacy coach. 
According to Lake, that starts with being just a little more aggressive, and in attack-mode all the time, and it's going to translate over onto the offensive side of the ball. 
"I know what I don't like facing, I know what creates problems, I know what's easy from a defensive standpoint," Lake said. "We'll continue to research what will be the best style. But I do know this. It's going to be physical, it's going to be bruising, it's going to be attacking, and it's going to be aggressive."
The longtime assistant hearkened back to his first days at UW under Keith Gilbertson in 2004 as one of his most critical learning experiences, a season when the Huskies won just one game and Lake was let go as the defensive backs coach after just one season.
To this day, Lake said he remembered the day he got fired, and the subsequent events of packing up and driving to Pocatello, Idaho to work as an unpaid assistant at Idaho State. It was all up from there, however, as Lake moved on to a position at Montana State, then in the NFL for the Tamba Bay Buccaneers, where he rapidly rose through the ranks, until finally landing with Petersen at Boise State. 
"I've been through some hard times already as a coach," Lake said. "This is a tough business. This program is going to be tough, it's going to be unified, and it's going to be competitive. We're going to have to deal with some setbacks. But I'm looking forward to the challenge."
Lake's time at UW has already been fraught with talks of potential departure and attrition. As his defensive backs have fled to the NFL to pursue greater dreams, Lake was reportedly offered defensive coordinator jobs at destination schools like Texas A&M and Alabama. He turned down every single offer, and now is head coach at the UW. 
Perhaps this has been in the works since the beginning. As Lake continued to garner success and fame for sending his defensive backs into the NFL, more and more praise, and job offers fell into his lap. It appeared Washington did everything to keep him in Seattle, offering him play calling duties as the defensive coordinator starting in 2017 and a significant pay raise. 
Now Lake gets a chance to build his own team from what Petersen left him.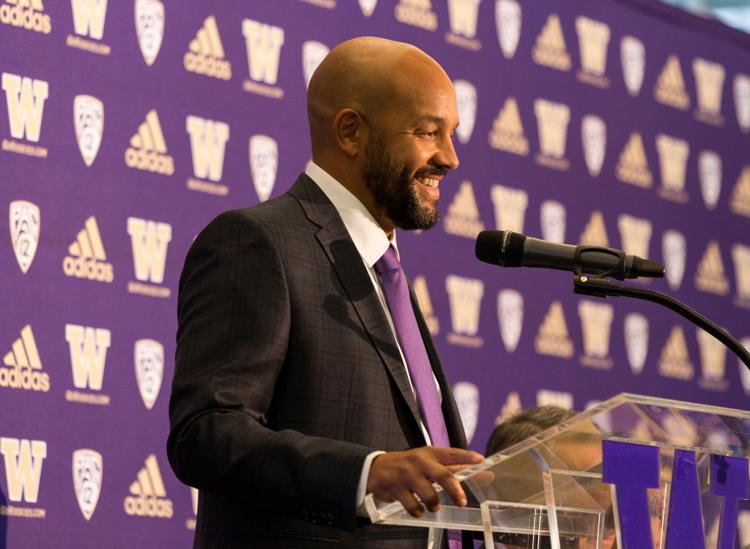 "He has all the qualities you'd like for someone to lead a program." Petersen said. "He's really smart, he's super competitive, to a fault sometimes, and that's awesome cause you need that guy in there when things aren't right."
And while things aren't necessarily not right for the Huskies right now, they certainly aren't where they want to be. With sky-high expectations entering the season, Washington stumbled out to a disappointing 7-5, with a losing record in conference. Maybe Petersen is right, and is stepping away to let Lake right the ship.
He could be the perfect guy for the job. But with no head coaching experience, and a potential complete rebrand on the offensive side of the ball coming up, the pieces might not fall together in the next few seasons. 
But Lake made his visions clear next to Athletic Director Jennifer Cohen and his former boss, Petersen. Whether it was new or not, Washington is going to embrace a new mentality. 
"We're going to try to win at everything," Lake said. "Whether it's a ping pong match up in the lounge or definitely on Saturday afternoons out here at Husky Stadium."
Reach Sports Editor Alec Dietz at sports@dailyuw.com. Twitter: @AlecDietz
Like what you're reading? Support high-quality student journalism by donating here.