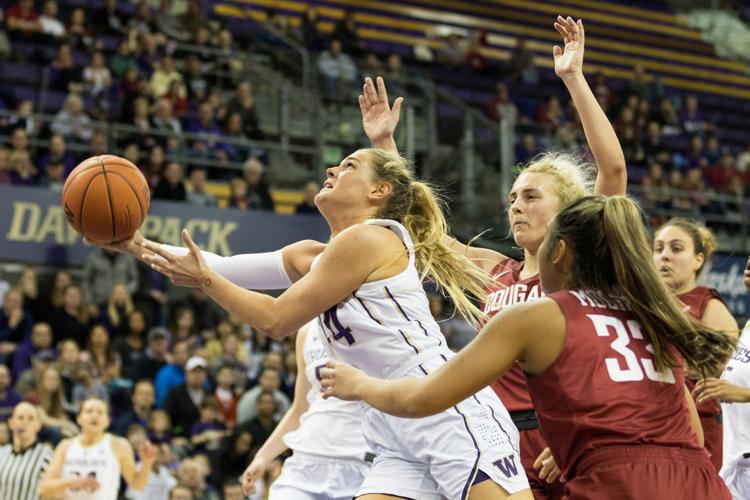 The Washington women's basketball team will start its California road trip off with No. 6 Stanford on Friday followed by a game against Cal on Sunday.
The Huskies (8-9, 1-4 Pac-12), coming off a week of mixed emotions, are looking to start strong and hot right off the bat this weekend, like they did in their win against Colorado, and be more aggressive on both offense and defense like they lacked in their loss to Utah.
"I think we always want to look to get the ball inside," sophomore guard Missy Peterson said. "I know we are a really good three-point shooting team at least, we have a lot of people who can shoot from outside so we tend to get a lot of our shots up from behind the arc but we try a lot of times to get the ball inside, be tough, get to the free-throw line."
With another weekend of Pac-12 opponents on the horizon, the Dawgs are going in confident in their abilities after proving they could hang in this conference following their dominant win against over the Buffaloes.
"We don't have anything to lose," head coach Jody Wynn said. "We are going to go out there and play as hard as we can and try and be the tougher team, that's really the most important thing for us when we go on the road like what we did against the Oregons."
The UW has also struggled with being undersized, which has impacted them being able to draw fouls and get to the free throw line. The Dawgs have shot 227 free throws, while the rest of the Pac-12 teams are around the 300 mark. The Huskies, however, are still working on their overall offensive strategies and how to most effectively score.
"We've been working a little more on intelligent drives," Wynn said. "Being under control with a jump stop to make the right read whether they go up and get fouled and try to score it or they kick it out."
For the coaching staff, the key for Washington this weekend in California will be to jump on their opponent right away and not let what happens on the offensive side of the ball affect their defensive effort and energy.
"We talked a lot about when things aren't going well for us offensively how we can get out of that rut," Wynn said.
Griggsby's status
In the UW's loss to Utah this past Sunday, sophomore guard Alexis Griggsby left the game early due to a mouth injury she got while attempting to take a charge. According to Wynn, she didn't knock any of her teeth out and will most likely return soon.
"She had some stitches and she's been out this week of practice," Wynn said. "Just trying to make sure her teeth are good, she's gotta heal so [she] is day-to-day."
Reach reporter Madison MacPhee atsports@dailyuw.com . Twitter: @madison_macphee  
Like what you're reading? Support high-quality student journalism by donating here.