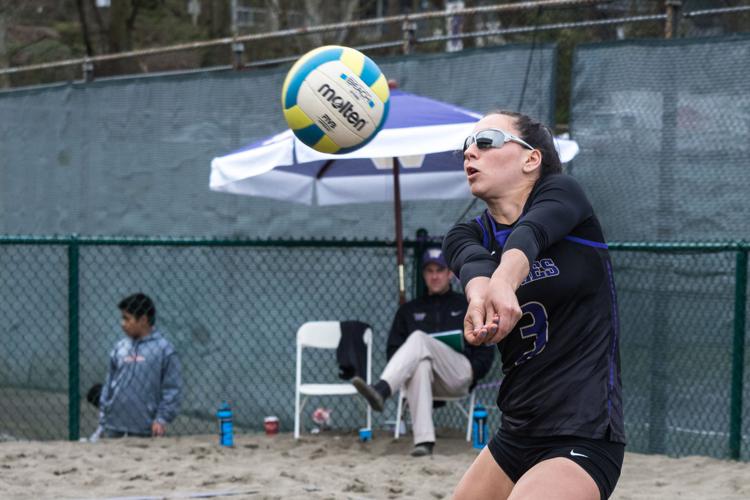 The Washington beach volleyball team lost to both No. 1 UCLA and No. 11 Cal at the Bear Down Beach tournament, hosted by Arizona.
The losses were in part due to big missing pieces in the Huskies lineup as Kara Bajema, Samantha Drechsel, Avie Niece, and Lauren Sanders are all away at the U.S. National Team open tryout.
The Dawgs first lost to Cal 4-1, then went on to lose against UCLA in a 5-0 sweep.
Game 1
The No. 2 pairing of seniors Kristen Gengenbacher and Cat McCoy scored the UW's only point of the day, beating Cal's Caroline Schafer and Lya Lindahl in a pair of close sets 21-19, 21-18.
Senior Destiny Julye and junior Shayne McPherson lost their first set to the Bears 21-15, but came back to win the second set 22-20. In the final set Cal, pulled away from the Huskies at the end, winning 15-13.
Freshmen partners Kyra Petersen and Callie Weber battled hard in their first set losing 25-23 to Mia Merino and Abby Waldburger for Cal. The Bears then took control of the rest of the match, winning the second set comfortably 21-12.
Sophomores Chloe Newton and Emma Calle  lost to the Bears No. 3 pairing 21-15, 21-16.
Freshman Anna Visser and sophomore Cailin Onosko made their first collegiate beach pairing in the No. 5 slot. They fell  21-11, 21-12 to Alexia Inman and Madison Duek for Cal.
Game 2
Julye and McPherson stayed at the No. 1 spot for the Dawgs and couldn't seem to get in rhythm, losing 21-13, 21-13.
McCoy and Gengenbacher faced the UCLA pair of Lily Justine and Sarah Sponcil and fell 21-12, 21-10.
That was the theme for the match against the Bruins. All five matches ended in sweeps, and Newton and Calle were the only UW pairing to pass 15 points in a set.
Tomorrow the Dawgs will face Arizona State at 11:45 a.m.
Reach reporter Madison MacPhee at sports@dailyuw.com . Twitter: @madison_macphee  
Like what you're reading? Support high-quality student journalism by donating here.