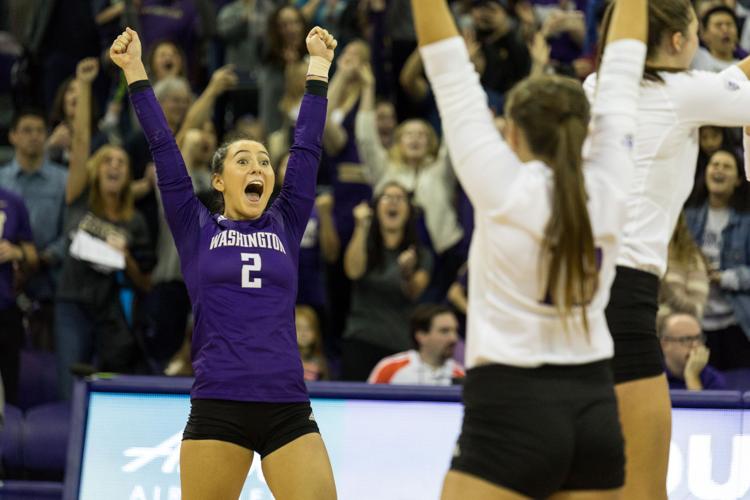 Everything seemed to go right for the No. 12 Washington volleyball team on Sunday afternoon as it swept No. 25 UCLA (25-14, 25-14, 25-23).
The serve-receive problems of Friday night's loss to USC were gone as the Huskies sided out at 78% in the first set. Washington also had four blocks in that set alone and hit .387, a strong start to the match. 
The Huskies didn't slow down in the second set, adding three more blocks and hitting .429. In the first two sets they aced UCLA twice. They also held the Bruins in the negatives in the second set, UCLA killing seven balls and making nine attack errors. 
"You don't hit for numbers like that unless you're passing the ball really well," head coach Keegan Cook said. "I'm really, really pleased. Usually you're not pleased when you get aced six times, but fought off a lot of tough serves."
Sophomore Shannon Crenshaw continued the stellar play that was the highlight of the USC match, with 10 kills hitting .474, and adding two blocks. 
"She looked just like she looked two nights ago but even better," Cook said. "Kid puts in a lot of work before practice, after practice. She's been hearing a lot of the same feedback for a year and half. Making changes is hard and now she's done that and she's getting the reward of that." 
Washington's offensive powerhouses Kara Bajema and Sam Drechsel added two aces apiece on top of 11 kills for Bajema and 10 for Drechsel. They both hit over .300, and the team as a whole kept errors down with only eight in the match. 
Junior middle blocker Lauren Sanders came up big on the block with five total blocks, including two solo. Senior Avie Niece also added five total blocks for the Huskies, who blocked UCLA 10 times. 
Niece was up against UCLA junior Mac May, who had a career-high 29 kills and hit .434 last time the Bruins and the Huskies met. This time Niece and the Dawgs held her to only six kills. With 10 errors, she hit -.154, the only time she's hit in the negatives this season.
On the other side of the net, Niece avoided a single error, adding five kills to Washington's total and hitting .714. 
The third set didn't go by quite so fast as the first two, with the Bruins making it above 14 points for the first time. They fought off two match points, making it 24-23, before the Huskies managed to get the win.
"UCLA made some great adjustments in the third set, played a lot better, served really tough," Cook said. "Those things stood out to me."
Washington heads to the Oregon schools next week, playing Oregon on Thursday at 8 p.m. and Oregon State on Sunday at noon. Both matches will be broadcast on Pac-12 Networks. 
Reach Engagement Editor Hailey Robinson at sports@dailyuw.com. Twitter: @haileyarobin
Like what you're reading? Support high-quality student journalism by donating here.