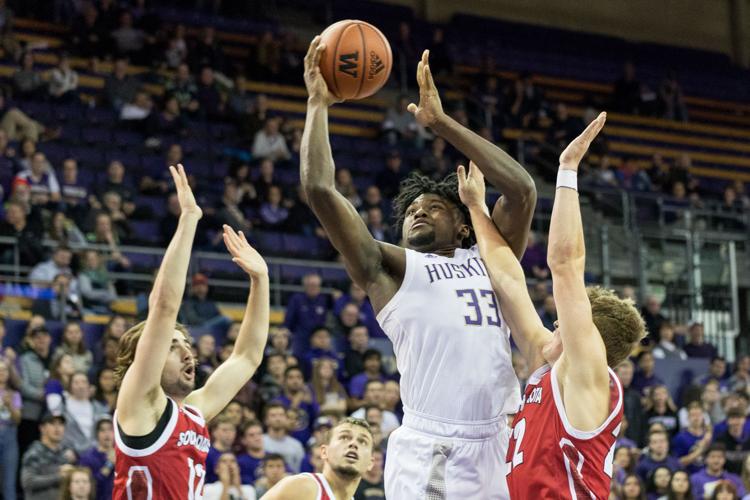 Despite a 20-point win over a team with a scorching track record from distance, freshman Isaiah Stewart wasn't totally happy with the No. 22 Washington men's basketball team's performance. 
"I'm never satisfied because I know how great we can be," Stewart said. "If we just work hard, everyday, and get better every practice, and just try to get better every game, play hard every game. I'm never satisfied, I always feel like we can get better."
The Huskies (6-1) controlled most of the tempo and pace throughout their 75-55 win over South Dakota, and even held the three-point percentage nation-leading Coyotes (6-3) to just four three-pointers, but Stewart still wasn't happy. 
They got off to a stronger start, leading the Coyotes by double digits in the first half before succumbing to a run that brought the lead down to just four points midway through the second half. It was very suddenly not a game that Washington was in control of. 
"Our problem was that you have a decent lead and our defense started slacking," head coach Mike Hopkins said. "When that happens against a good team, it's really good shooters, they get a couple of stops but we take bad shots. That's how teams get back into the game, we have to get better at that. But for the most part I was happy about our defense."
The Huskies were able to end the game on a 21-5 run to walk away victors. The nation's best three-point shooting team shot just 4-of-23 from three-point land, a measly 17.3%.
"It's really activity in the zone and making sure we're tagging shooters," Hopkins said. "It's important for us, it's what we stress every day. It hasn't been great so far but tonight it was pretty good."
Making his first career start, Jamal Bey paced the Huskies to their strong start, knocking down two early treys and scoring a career-high 14 points in a breakout performance. After scoring 20 in its exhibition win over Western Washington, Bey had struggled to score in the early regular season, not cracking double digits once until Monday night. 
But it was Jaden McDaniels again who led Washington in scoring, dropping 20 points, with 15 in the first half alone. The freshman, who leads the Huskies in turnovers, had just three today in a mostly clean performance. McDaniels, who had struggled to find his shot in the Huskies' first few games, has come on strong in his two most recent outings. 
Hopkins credits that to "letting the artist paint," allowing McDaniels the freedom to create on his own and find his space and spots on the floor. 
"Sometimes good coaching is getting out of the way," Hopkins said. 
So while the Huskies walked away with their fourth-straight win against the hottest shooting team in America, they still have things to figure out. Judgement Day is coming on Sunday, when No. 9 Gonzaga comes to town, but the Huskies have to deal with another cross-state rival in Eastern Washington on Wednesday first. 
Reach Sports Editor Alec Dietz at sports@dailyuw.com. Twitter: @AlecDietz
Like what you're reading? Support high-quality student journalism by donating here.