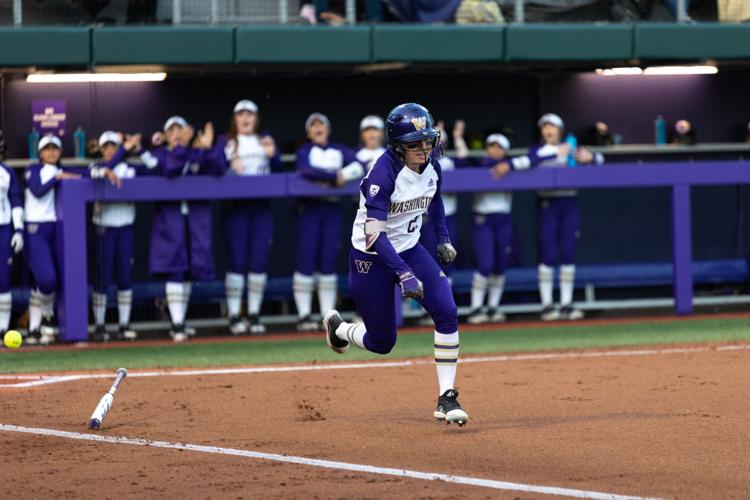 The Washington softball team won its final two games of the annual Husky Fall Classic on Sunday at Husky Softball Stadium.
Freshman pitcher Kelley Lynch threw five innings of one-hit, shutout ball as the Huskies took game one from Western Washington, 3-0. Lynch took the circle for the second day in a row and followed up Saturday's eight strikeout performance with nine strikeouts of Western hitters on Sunday.
Noelle Hee started the scoring in the first, plating Sis Bates with an RBI single. Then, in the second, Bates hit a sac fly, increasing the Dawgs lead to 2-0. In the third, the Huskies took advantage of some shaky Western pitching. After a single and two hit batters, the UW loaded the bases and sophomore outfielder Francesca Torraca drew a bases loaded walk to score another run.
That's all the Huskies needed as Lynch and junior Gabbie Plain combined to hold the Vikings scoreless in the first game.
Washington then faced Central Washington in its second game of the afternoon. It was a similar story to the first, as UW pitchers dominated the opposition as the Huskies beat the Wildcats comfortably, 6-0.
The Dawgs wasted no time getting started in the first inning. Senior shortstop Sis Bates hit a leadoff single and redshirt senior catcher Morganne Flores followed with a double, scoring Bates from first. Washington scored in the first inning in all five games of the tournament.
The Huskies added another run in the second inning, then junior designated player Noelle Hee continued her hot weekend in the third. With two runners on, Hee drove a ball over the right field wall and increased her weekend home run total to four, and weekend RBI count to 14.
Senior infielder Taryn Atlee added a solo shot in the sixth inning and junior pitcher Pat Moore closed the door on the Wildcats in the seventh as the Huskies won their fifth and final game of the weekend.
The Huskies will start their season on February 7th, 2020 in Atlanta, Ga. against Ohio in the Buzz Classic. The Dawgs will return to Husky Softball Stadium on March 13th against Utah.
Reach reporter Anthony Edwards at sports@dailyuw.com. Twitter: @edwardsanthonyb