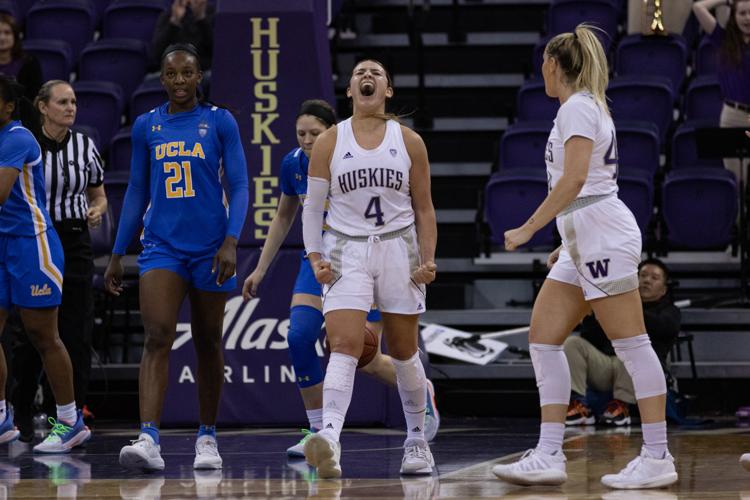 For three years, the name Amber Melgoza has been synonymous with Washington women's basketball. In that time, she's scored nearly double the points of the next highest scorer on the team and climbed to No. 9 all-time in scoring for the program. 
Melgoza has been the face of the Huskies in what has been a tumultuous few years for the team as they struggled in the wake of a coaching turnover in a stacked conference. In those difficult times — scraping together only a single conference win in 2018 and only two the year after that — Melgoza has come to represent a lot to the Huskies.
"What hasn't she meant?" head coach Jody Wynn said. "She's just everything to our program." 
During the past three years, Melgoza has either scored or assisted on 38% of Washington's field goals, scored 20 or more points 40 times, and been the player at the top of every opposing team's scouting report.
"I like when people want to lock me down, it kind of motivates me," Melgoza said. "I like accepting those challenges."
Melgoza is even better in the Pac-12, the premier conference for women's college basketball. She's currently third in scoring during conference play and ranked first in the same category her sophomore season. All seven games where she's scored 30 or more points were against Pac-12 teams, including her career-high 40 against powerhouse Stanford two seasons ago. 
This season, Melgoza was named to the all-Pac-12 team for the second time in her career. 
Almost all of Melgoza's highest-scoring games have been in losses, many of them close. After being held to no points for the first time since her freshman year against Stanford earlier this season, Melgoza rallied against Cal for a season-high 35 points. She willed the Huskies to overtime and gave them an opportunity to win. 
On Washington's darkest days and toughest losses, Melgoza has served as a bright spot, doing everything she can to get the Huskies closer to a victory. 
And when the Huskies pulled out an upset win over No. 8 UCLA on her senior night, Melgoza was visibly emotional. 
"A lot of people don't believe in a team like us," she said. 
That's the one thing about Melgoza that has made her so dominant on Washington's stat sheets for so long. She always believes. Mid-losing streak, she'll still go out and drop 25 points. That's what she'll go down in program history for. 
Out of all 28 Huskies who have hit 1,000 points in their careers, Melgoza did it with the least points in her freshman year. Of three players who managed 1,000 points after a season scoring under 100, Melgoza has scored the most by far, despite only managing 53 points in her first season at the UW. 
With just the Pac-12 tournament left, Melgoza needs 15 points to hit 500 and become the third UW player to score 500 or more points in three seasons. She needs 17 points to move into eighth place in Washington's all-time scoring. She has the ability, but whether she succeeds or not, she's already solidified her place in history. 
Reach Engagement Editor Hailey Robinson at sports@dailyuw.com. Twitter: @haileyarobin
Like what you're reading? Support high-quality student journalism by donating here.