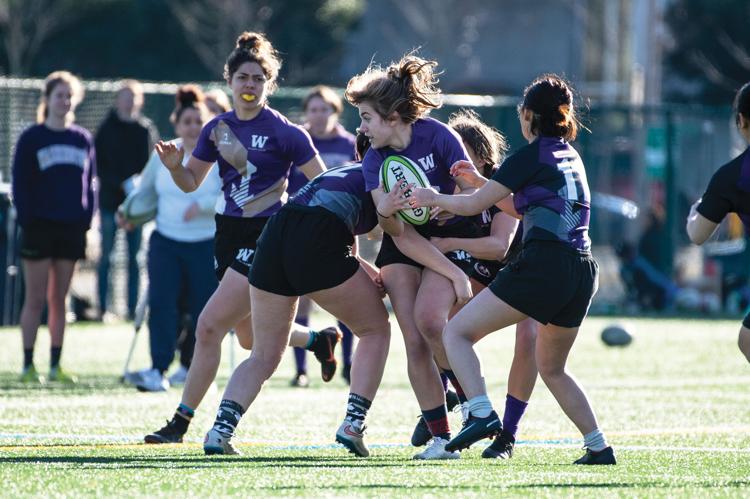 Most families don't spend their time tackling one another, but for the UW women's rugby club, it's just one of the ways to bring everyone together.
The club offers an opportunity for any woman to join and find a sense of community. Rose Guttman is a junior and in her third year on the team after joining in her early days at the UW.
"As a freshman I wasn't in a sorority, I wasn't in a group already, so I was like, I'll try this, I'll get to work out, so it'll be good for me and I'll get to hang out with some hopefully cool people," Guttman said.
The UW offers a lot of sports and activities that can be a great way for new students to find friends. Guttman's choice turned out to be a great fit. Identifying as bisexual when she first came to college, she came out as a lesbian during her time at the UW. She was anything but alone in the club.
"The fact is most of the women on the team are gay, or they identify as or are attracted to women in some fashion," Guttman said.
Even with the Seattle's increasingly conscious social climate, the solidarity is still comforting.
"When you have an identity and you have to go around each day surrounded by people who maybe don't feel the same way as you do, or assume that you are straight or whatever, it can be a little bit tiring," Guttman said. "But when you get to be with a group of people where nobody cares or that might even be the norm, then it just can create a much more welcoming atmosphere."
The rugby club is open about its environment of making everyone welcome and treating all equally. One of Guttman's experiences in high school did not reflect the same treatment.
"It was weird being one of the few girls on my ultimate team, and gay, because I feel like there was weird expectations about me versus the other girls," Guttman said. "We never discount someone because of who they like or love."
That culture continues to grow. A full rugby roster contains 23 players, and with club membership reaching above 50, volunteer head coach Margaret Sharp finds a chance for all players to get in the game.
"This season has been very interesting because we have enough players for the first time to have two full sides," Sharp said. "One side that we are really focusing on being [is] a developmental side and getting people lots of playing time."
There's still an opportunity to connect in smaller groups within the team, the club has four families in which rookies are divided into early in the process of joining. The families include green, pink, purple, and yellow, with each containing its own identity.
Rookie Master Kaylee Pigott serves as a sorting hat for the new members, dividing them into their respective families based on a quiz given out at the beginning of the year.
"We have an event that's the Rookie Reveal, and this year I put colored papers in black balloons and wrote the names of rookies on them," Pigott said. "Then they went downstairs and popped them and found their big."
A big is a member of the family that acts as a mentor or guide for the new addition. There is then an encouraged period of bonding time to build up that relationship.
President Alex Fletcher has focused particularly on bridging some of the gaps within the team to help build the positivity.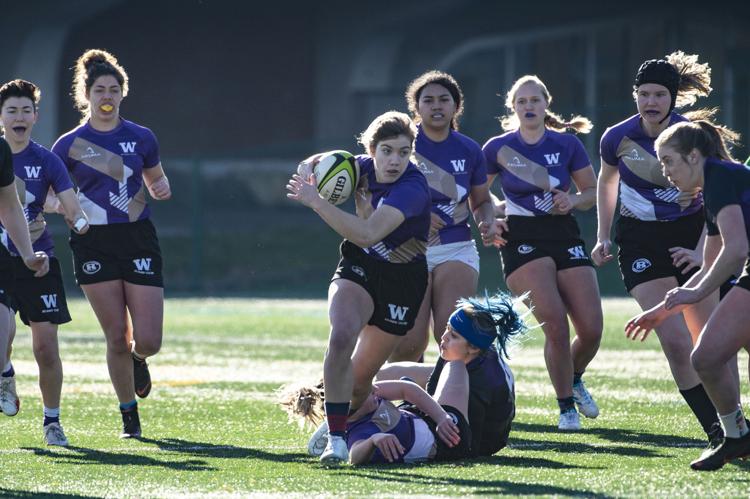 "I think it has to do with the older people on the team now putting themselves in the shoes of where they were with the newer people," Fletcher said. "And making sure they feel more welcome than potentially they felt in the past."
A big point of emphasis has been to make leadership as approachable as possible to help new members feel more comfortable with the team.
The club is now in its 17th official year on Montlake and is a part of the Pacific Northwest Rugby Union. League opponents include Washington State, Oregon, Oregon State, Western Washington, and Boise State. After league play, there's a postseason with an opportunity to advance to the USA Rugby Finals.
At the conclusion of each game, both teams join for a social to talk with the opposing side and even take part in singing some rugby songs together.
"Rugby is a great sport and you bond very quickly, and you can go all over the world [to] bond over rugby, but this team bonds among themselves," Sharp said. "They make study groups and they volunteer, and they do a lot together, so I think it's a really great group of people."
Reach contributing writer Josh Eddy at sports@dailyuw.com Twitter: @JoshTreEddy
Like what you're reading? Support high-quality student journalism by donating here.