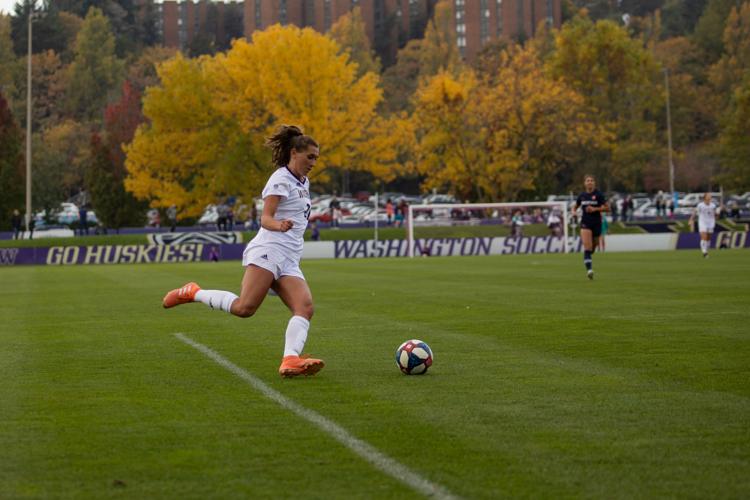 The No. 21 Washington women's soccer team has just three games remaining in its 2019 campaign, and with such a successful season so far, staying focused is as important as ever.
Following a tough loss in the final minutes to No. 13 UCLA, the Huskies (10-4-2, 6-2-0 Pac-12) stormed back to a decisive 2-0 victory over No. 11 USC on the road.
"If you don't get the points on Thursday, you're really looking at an uphill battle on Friday, because you're now fatigued and you're playing against another great opponent," head coach Lesle Gallimore said.
The resiliency of this team has certainly been impressive; it is 4-0 following losses this season, even with two of those games coming against ranked opponents on the road.
"It's one of those things that when you're preparing right and you're looking at the things that didn't go as well as you wanted them to the game before and you get back to the things you've been asking them to do and that have been working for you," Gallimore said. "That's when it starts to come together, and I just think it's that belief that they know they can do it."
The depth has constantly been a huge factor for the Huskies, as 20 players saw action in the win against the Trojans. Especially in a sport with so much conditioning and injuries, it's important to have a lot of players to plug-and-play to be successful.
"Helena [Reischling] came in at a different position than she's been playing, Jessica Udovich went out with a little bit of a hamstring issue early, and Laura Roberts stepped in and played the most minutes that she's played recently," Gallimore said. "Cassidy Lucht got more minutes than she normally has been getting, so there was a lot of people that contributed to that win."
The big win over USC put the UW in sole possession of second place in the Pac-12, and it now looks ahead with postseason hopes becoming more likely by the week.
But the Huskies aren't there yet. The same energy that got them here is going to be important in finishing out the season strong.
"The players' job is to just to continue to be good at what we do and to not have any dips and to not look too far down the road and just to stay in the moment with each team that we're playing," Gallimore said. "Without talking about it, I think our team's been very mature and very good at that this year."
Washington hosts Colorado on Thursday at 7 p.m. Then Utah will come to town with a match Sunday at Noon. The two teams sit at ninth and 10th in the Pac-12, respectively.
Reach reporter Josh Eddy at sports@dailyuw.com. Twitter: @JoshTreEddy
Like what you're reading? Support high-quality student journalism by donating here.