In the winter, sophomore Laura Roberts wasn't sure if she would play for the Washington women's soccer team. Now, she's starting on the backline as the Dawgs head through Pac-12 play.
Roberts experienced a setback in the summer of 2017 when she broke her arm playing. As the year wore on, the defender talked with head coach Lesle Gallimore about walking onto the team in the winter.
"I just decided late that I wanted to come play here," Roberts said. "I hadn't been playing for awhile so it was just the right decision to get myself in-shape, start practicing, and have that time to get settled in on my own."
After Gallimore talked to Roberts and her family, the high schooler decided it would be best to enroll at the UW in 2017 with the option to walk-on to the team for the 2018.
"I think if you're going to fight to make it as a walk-on player, you have to work really hard to be in the top half of the roster," Gallimore said.
Roberts joined the team late her freshman year as the one of the few walk-ons, and saw limited minutes early this season. In a road game at Portland, defender Jessica Udovich went down with an injury. It was later announced that Udovich had torn her ACL and would miss the remainder of the season.
Rising to the occasion was Laura Roberts. She was thrown right into the fire, playing 79 minutes in her first start. As the games went on, she began to find comfort and started to handle more and more minutes.
"It was definitely hard at first, because I was getting some minutes early, but that was a big jump," Roberts said.
Gallimore explained that Roberts wasn't super physically prepared coming into the season, so the extended playing time took a toll on her early.
"It definitely caught up with me right away, but being able to scrimmage and play all the time, that helps me the most," Roberts said. "Now, playing more, I'm still building my fitness, for sure."
Throughout the experience, Roberts' teammates have helped make the transition to the starting role much easier.
"When I do something great, they always cheer me on. That makes it a lot easier, because I'm not as nervous when I'm playing," Roberts said.
Her relationship with the team has been growing throughout the season, and team captain Taylor Sekyra has noticed Roberts step more into her comfort zone.
"I think we all used to think she was really, really quiet. And now she's super funny," Sekyra said. "In the locker room she's just someone everyone loves to be around. I think those are the kind of people that make our team environment so special."
Roberts described that her seeing more time on the field made her feel responsible for stepping up within the team. She also noted she felt more confident and open with her teammates in her starting role. The team's trip to Florida was also a time that she started to feel a lot more comfortable and open with the team.
On the field, her presence is greatly appreciated by coach Gallimore, highlighting her consistent mental game as one of her best traits.
"She doesn't have a lot of high-highs or low-lows, she just goes and plays and is mentally pretty tough, so it's been awesome," Gallimore said. "Laura's been a real godsend for us, she's really stepped into her role."
Roberts plays alongside Sekyra at the back, and the Washington captain has noticed her intensity on the field, helping each other protect the net.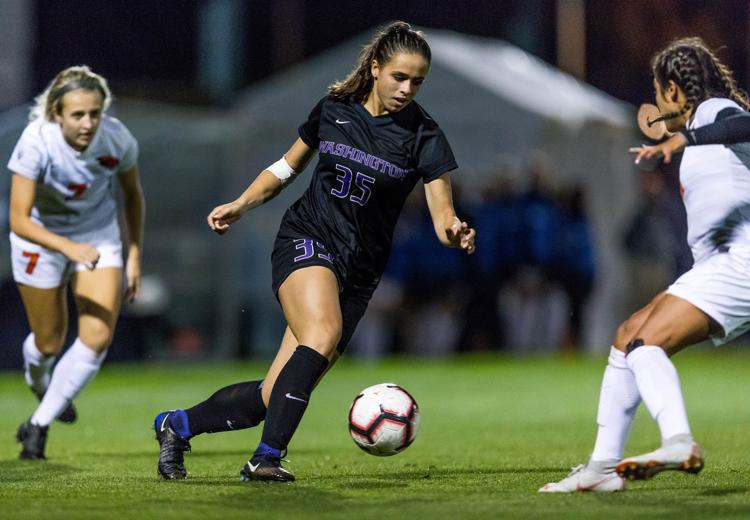 "She plays fearlessly. She goes into every tackle hard, she plays really hard," Sekyra said. "Playing with her has been a really seamless transition, and she's just been really great for us."
Roberts' mentality is to be strong in adversity and to never stop working, always trying to do her best. She's been taught that by a young age and now feels second nature to her, part of the reason why she has that consistency on the field that coach Gallimore loves.
"That's just always been how my coaches in the past have trained me, the mental aspect is literally the most important aspect." Roberts said. "I don't really think about it anymore, it's just kind of subconscious now."
The sophomore is also a part the Kappa Alpha Theta Sorority at the UW, and she's feels that there's a lot of similarities between relationships with her sorority sisters and the relationship she has with the team
"It's like a team, you're always gonna have each other's back," Roberts said. "You go through thick and thin with all of them, you see them at their worst and you see them at their best."
She also feels she learned a lot of values in her sorority that she brings to the field as well. Some of the most being patience, trust, and especially loyalty.
"In a team, you're super loyal to your teammates and I'm super loyal to all those girls in my house, because those are also my best friends so I will be there for them at all times and it's the same on the team," Roberts said.
As she looks ahead to the second half of the season, with ranked opponents like No. 1 Stanford, No. 7 Washington State, No. 15 UCLA, and No. 20 Colorado still on the horizon, Robert's focus is always on self-improvement.
"Our goal now is to match their level, and say we're as good as them and can be as good as them," Roberts said. "Just play at our highest standard the whole game, and never letting down."
Reach contributing writer Josh Eddy at sports@dailyuw.com Twitter: @JoshTreEddy