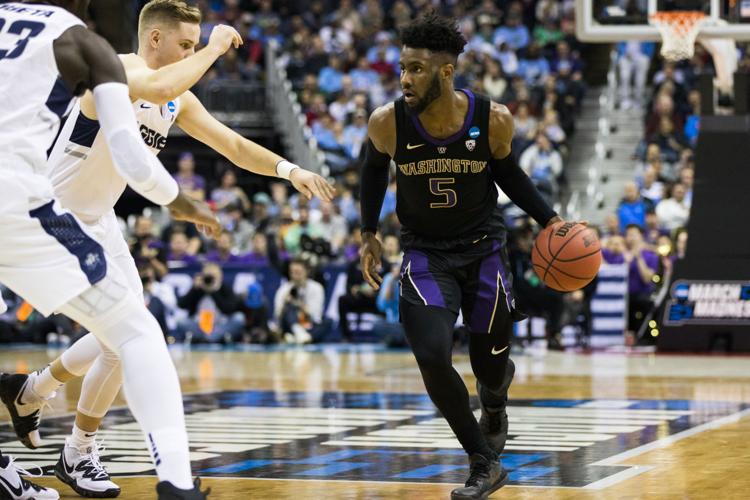 Sophomore Jaylen Nowell has declared for the NBA draft, according to a post on Twitter.  
In the post, the reigning Pac-12 player of the year said "After talking to my Mother, family, teammates, and coaching staff I have decided to enter the 2019 NBA Draft. I want to thank everyone, especially the city of Seattle, for your support. I hope you all will continue to support me through my professional career. I will always be a Dawg for life."
Nowell led the Huskies in scoring each of his two years on campus with 16 points per game and 16.2 this year as he led the Dawgs to their first NCAA Tournament appearance in eight years.
Head coach Mike Hopkins released the following statement about Nowell's decision:
"This is a great opportunity for Jaylen to continue to pursue his dreams of one day playing professionally. It's an amazing honor and achievement for him. When he chose to stay with us two years ago and come to the University of Washington, we have seen him grow every single day, both on and off the court. Our staff couldn't be prouder of what he has already accomplished here at UW, and we will be here throughout the whole process to help in any way we can."
As Washington fans learned last year during Noah Dickerson's NBA exploration, it is still possible that Nowell returns to Montlake. New rule changes allow Nowell to hire an agent and still return to school if he withdraws his name by May 29, 10 days after the NBA draft combine.
If Nowell does not hire representation, he has until June 10 to remove his name.
The new rule changes also allow a player to withdraw his name from the draft two times during their college career. This new change means that it only makes sense that the Garfield alum would take advantage of this opportunity to see what NBA evaluators think of him.
He is currently projected as a second-round pick by NBADraft.net. Both ESPN and Tankathon do not have him on their draft boards of 100 and 66 players, respectively. That will likely change now that he has declared.
Reach reporter Kyle Gehler at sports@dailyuw.com. Twitter: @KyleGehler