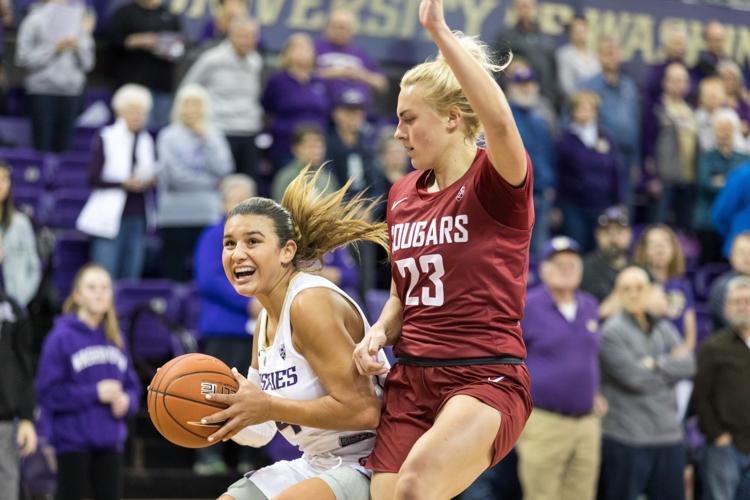 The Washington women's basketball team fought a hard battle against Washington State but came up just short, losing 79-76.
The Huskies (7-6, 0-1 Pac-12) had a big second half performance, but it seemed like for every effort and push the Dawgs made, the Cougars (6-6, 1-0 Pac-12) had an answer.
"We are a very competitive team, we like to play with heart," junior guard Amber Melgoza said. "It's a bummer that we lost and it sucks that we have to start with 0-1 but it's a learning experience and we've been through this and I think that it will carry on to something good."
Neither team shot well in the first quarter of play, with both were relying on long range shots or out-of-system layups. The first bucket wasn't made until four minutes in when senior guard Jenna Moser hit a three-pointer to break the scoreless run. The Cougars were guarding Melgoza very closely which held her to only two free throws in the first quarter. Concluding the first period of play the Dawgs were only shooting 29.4 percent from the field while WSU was shooting 42.1.
"It was unfortunate because our poor defense lead to poor offense in the whole first half," head coach Jody Wynn said. "Sometimes you can't control missed shots, we missed a lot of layups in the first half, we've got to capitalize on those opportunities."
Going into the second quarter, both teams seemed to settle down on the offensive end and start to run their respective offensives. The Cougars started to pull away as they broke down the Washington defense and hit some big shots from behind the arc. In response to this fast paced WSU offense, the Huskies went into a press, starting a run of sloppy play with turnovers on both sides. The Huskies mixed up their defense once again but Washington State's effective three-point game widened the gap going into the half leading by 10.
In the third quarter of the contest, Washington pushed the ball up the floor fast with quick transitions that led to more time for scoring opportunities for the Huskies as they, at one point, cut the Cougar lead to two.
Late in the quarter, though, Melgoza hobbled off the court with what looked to be a knee injury after freshman T.T. Watkins fell on her.
"I think T.T. tried to take a charge," Melgoza said. "It was really fast and in the moment, but she slid and collapsed into my knee. I'm fine; it hurts a little bit but I can move on from it".
Melgoza would return to play later in the game.
In the final quarter, Washington locked down on defense as Melgoza hit a big three and started to take the game into her hands. WSU had an answer as it relied heavily on junior forward Borislava Hristova. The Cougars hit back-to-back three pointers that started to dig Washington into a hole but freshman forward Darcy Rees quickly scored three layups to bring the Huskies right back in the contest.
In the final minutes of the game, the UW put on an active and aggressive full court press to try and slow the Cougars. In the final nine seconds of the game with Washington down by three, the Huskies had a chance to tie the game. Everyone in the stadium knew who the ball was going to, but Melgoza couldn't get a good shot off.
"All eyes were on me at the time," Melgoza said. "I should have recognized the clock more so I could've gotten a better shot off but it's a learning experience for me and I still have a lot to grow from here."
Rees was a spark off the bench for Washington with eight points in the first half which led her to a second half start over senior forward Hannah Johnson. Rees finished the game with 15 points.
"Darcy rebounded well", Wynn said. "She got six offensive boards, we haven't seen the rebounding out of her like we saw tonight so that was a positive and she's just a freshman."
Hristova had 38 points to lead to the Cougars.
"Hristova is one of the greatest scorers in the country," Wynn said. "To let her have 38 is a little ridiculous as far as our defensive attention to detail goes, but she still had to step up and preform."
Melgoza finished the night with 27 points while Rees and Moser contributed another 15 each.
Reach reporter Madison MacPhee atsports@dailyuw.com . Twitter: @madison_macphee  
Like what you're reading? Support high-quality student journalism by donating here.