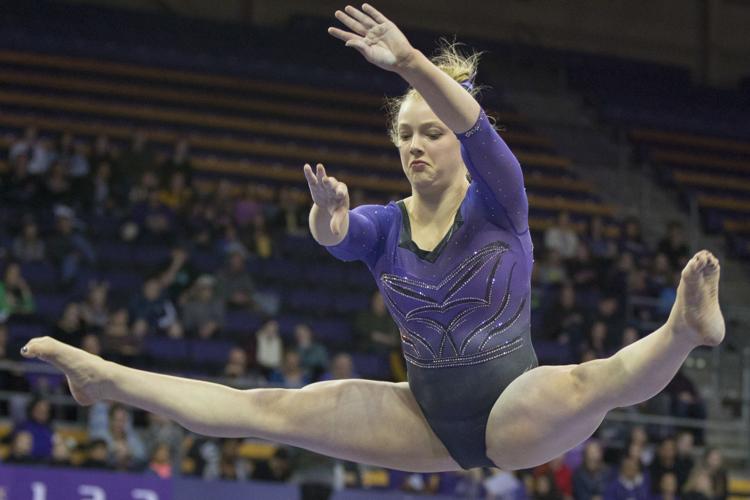 The No. 19 Washington gymnastics team will host Sacramento State and Iowa on Friday at 7 p.m., and return to Montlake on Sunday at 2 p.m. to host Southern Utah.
It's rare that a college gymnastics team competes twice in the span of only a few days. The schedule is set up so most compete only once a week, and for good reason. Gymnastics is hard on the body, and so is competition.
But it's also necessary.
"They need this for regionals, so they know the importance of it," head coach Elise Ray-Statz said.
The new regionals system being implemented this year means that the Huskies will have to compete two days in a row in order to qualify for the national championship. They'll compete in a four-team regional and, if they place in the top two, move on to another four-team super regional the next day.
The national championship is the same way –– the eight teams who qualify will compete in groups of four to determine the four teams that compete for the title.
"We've been preparing since the beginning of preseason for this, because it's more difficult on your body," senior Kristyn Hoffa said. "We have intrasquads twice a week, so that would resemble two meets. That's how we prepare."
This isn't the first time the Huskies have competed two meets in one weekend. Last season, they started the year with an away meet in Sacramento on the second Friday in January and two days later competed again in Reno.
"Knowing that we did it last year and we did well, knowing that we'll be home both meets just gives us that confidence that we'll be able to do it," senior Malory Rose said.
The Huskies improved from their first meet to the next that weekend, and they're hoping to do the same this weekend.
They're at home this time, another advantage. They'll be competing on their own equipment with a home crowd around them, the former making the team more comfortable and the latter giving them more energy.
"We have a good opportunity this weekend, with two home meets back to back," senior Monica Riley said. "It's really nice to have that quick turnaround so we can improve from the first meet to the next."
The Huskies are currently ranked No. 19 in the country, and moving up in the rankings would ensure them a better spot in the regional seeding. Rankings are determined by a team's National Qualifying Score (NQS), which takes the team's top six scores, at least three of which must be from road meets, removes the top score, and averages the five remaining.
In order to significantly improve their NQS, the Dawgs would have to beat their season high 196.750, preferably more than once. With several gymnasts still training to add skills that will give their routines higher starting values before the end of the season, it's still within reach.
"We only have three more regular season meets, so if we can just keep the upward trajectory I think we'll be in a much better spot," Riley said.
Reach Social Media Editor Hailey Robinson at sports@dailyuw.com. Twitter: @haileyarobin
Like what you're reading? Support high-quality student journalism by donating here.