Over the past two decades, the success of the UW throws team has been rather up and down, sending athletes to nationals every couple of years but never being able to consistently compete at the national level. 
But now, under coach Andrew Ninow and with multiple All-Americans returning, the throws team is hoping to compete nationally this year and for many years to come.
"I think our team was set up to do some good things this year," Ninow said. "I thought we were going to be in contention to be one of the better throws groups in the country and in the conference."
Ninow is in his second year as the head throws coach at the UW and in his 11th year as a coach. In his first season on Montlake, he had five athletes qualify for NCAAs and hopes to continue building on his early successes and develop a culture of accomplishment for the throws group. 
"The main thing is developing a culture where everybody is into getting better," Ninow said. "To try and cultivate a passion to put in the extra work, and bring in people who all think the same way and are passionate about the sport."
To build this culture, Ninow is using his prior experience coaching at schools across the country, including the University of San Francisco, Stanford, and Kentucky. Before arriving at Washington, Ninow helped athletes reach the podium at the NCAA Championships 14 times and sent many more to the final event. 
Two athletes have already bought into Ninow's philosophy and have the success to show for it: sophomore Elijah Mason and junior Jonah Wilson.
Mason had already enjoyed success at the UW. In 2019, Mason won the Pac-12 Championship in discus and finished seventh at the NCAA Championships, good enough to earn first team All-American honors. Mason had even higher expectations for this season before it was canceled. 
"My goal for 2020 was to win discus at the NCAA Championships," he said. "That will be the goal next year as well."
After a redshirt year in 2018, Mason's freshman season was one of the best by a thrower in UW history, setting the Washington freshman record in the discus with a throw of 199 feet, the farthest a Husky has reached since 2007. Mason credits Ninow's arrival at the UW with pushing him to achieve what he did in 2019.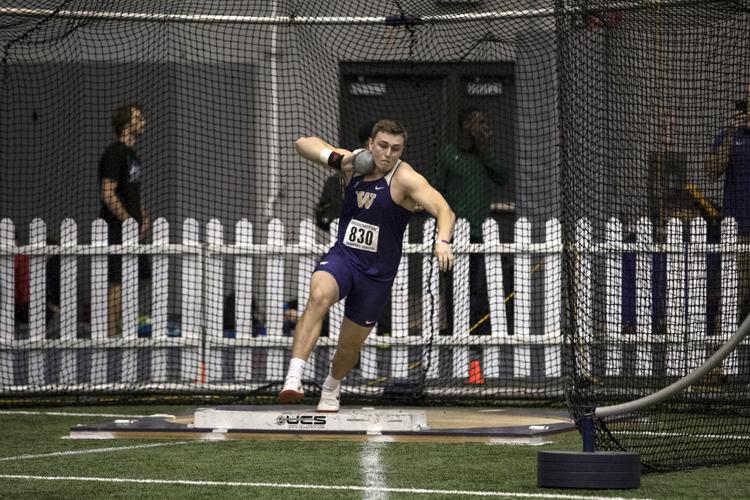 "Ninow stepped in and was understanding enough not to change everything I had been doing previously," Mason said. "But he did push me out of my comfort zone in order for me to grow and really see what I can [do]." 
When competition resumes in 2021, Ninow believes that Mason could achieve even bigger things.
"He definitely has the ability to be one of the top five in the country," Ninow said.
Wilson is another thrower who was looking to follow up on a huge 2019 season in 2020. As a sophomore, Wilson qualified for the NCAA Championships in both  discus and shot put, finishing 20th and 16th respectively. He was the first Husky to qualify in both events since 2000, but Wilson still believes he could have surprised people in 2020.
"I think I was really low on everyone's radar coming into this year," Wilson said. "I was expecting really big things this year in regards to some of the marks I was going to hit."
Similar to Mason, Wilson took a leap in performance in 2019 after Ninow joined the team. The coach was able to get the junior to put an emphasis on maximizing his natural ability and athleticism. This was especially true for Wilson's main event: shot put. 
"Last year was just getting him to refocus on hitting his primary positions," Ninow said. "And that is what I really think helped him was having a consistent method."
In 2021, Wilson will once again hope to qualify for NCAAs in both shot put and discus. Shot put will always be his main focus, but with help from his teammate Mason, Wilson believes that he can also improve and even score points for the team in the discus.
"I love having Elijah [Mason] as a teammate and especially the fact that he throws the discus," Wilson said. "It helps me a lot to have someone who's better than me in an event because that only pushes me to be better."
Both Wilson and Mason value each other greatly as teammates and competitors. Having someone to compete with day in and day out gives both of them a competitive edge and has improved their own individual performances. 
Led by Wilson and Mason, the UW throws team hopes to compete nationally in 2021. These are the first steps to building the winning culture that Ninow hopes to cement at this program. Once established, that winning culture will hopefully bring prolonged success for both the throws and the entire UW track and field team.
Reach reporter Nick Lombroia at sports@dailyuw.com. Twitter: @lombroia
Like what you're reading? Support high-quality student journalism by donating here.