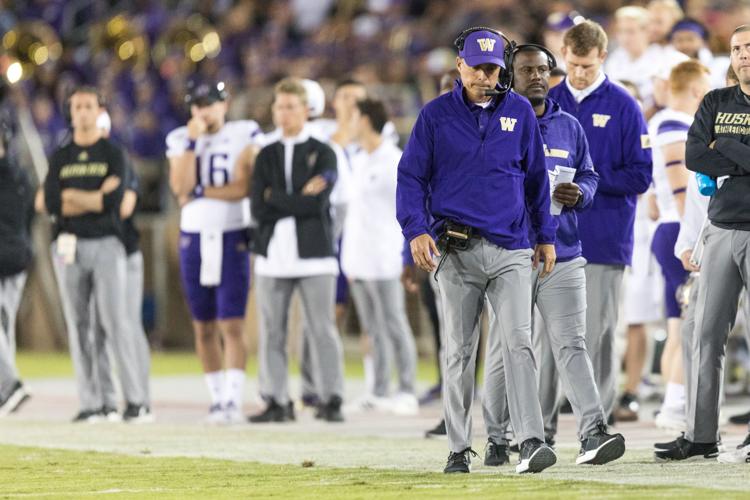 PALO ALTO, Calif. — Another game at Stanford, and another loss for the No. 15 Washington football team, which dropped its second conference game of the season 23-13 on the road. 
After a strong start on offense, the Huskies (4-2, 1-2 Pac-12) were stifled for the rest of the game and were out-gained by the Cardinal (3-3, 2-2 Pac-12) by nearly 200 yards. A 5-for-5 start for Jacob Eason for 56 yards and a touchdown was enough to give the UW an early lead, but after that, the junior went just 11-for-31 for 150 yards and an interception. 
"They just made more plays at the end of the day," Eason said. "We came out flat, and we didn't play like we know how to play, so that's what happened."
For the second time this season — after the loss to Cal — the UW offense was pretty much stuffed in the second half, producing just three points. The game's biggest turning point may have been on Washington's opening drive. The Huskies marched right down the field and had a chance to tie the game at 13-13 after getting halted at the Stanford 13-yard line. 
Instead of sending Peyton Henry out for the makable field goal, head coach Chris Petersen opted to go for it on fourth-and-short. Eason's pass intended for Andre Baccellia fell incomplete on a slant route guarded by Stanford's best defensive back, Paulson Adebo. 
"Thought we could make it," Petersen said. "We have to score points, we have to score touchdowns in the red zone. Kicking field goals isn't going to beat this team. Fourth-and-2, fourth-and-3, we think we can make it and we didn't."
The Cardinal then drove 33 yards before having to punt, but they pinned the Huskies deep and on their following offensive possession put together an easy touchdown drive. Suddenly it was a two-score game, and the Huskies just couldn't muster enough offense, or enough defensive stops to win. 
"We understood the game plan and they ran what we thought they would," Myles Bryant said. "But it comes down to how you tackle and we missed a lot of tackles just like in the Cal game. It ends up being a similar result, that's something we have to go back in and fix."
To this point, Stanford had not produced an 100-yard rusher in a single game. Saturday night, Cameron Scarlett rushed for 151 yards on 33 carries. While UW managed just 88 yards on the ground, the Cardinal rushed for 189. 
"We didn't play to our standard," Bryant said. "We just didn't come out understanding how important this game was. From the beginning to the end I feel like they just got the best of us."
Washington doesn't have a lot of time to put this performance behind them. After allowing over 200 yards rushing to an air raid USC offense and then nearly 200 more against Stanford, the Huskies take on an Arizona squad that averages over 250 yards on the ground per game. 
"I just don't think we tackled well on the grass," Bryant said. "Guys just forgot the fundamentals and that kind of hurt us. That's something we're going to key on this upcoming week."
Reach Sports Editor Alec Dietz at sports@dailyuw.com. Twitter: @AlecDietz
Like what you're reading? Support high-quality student journalism by donating here.