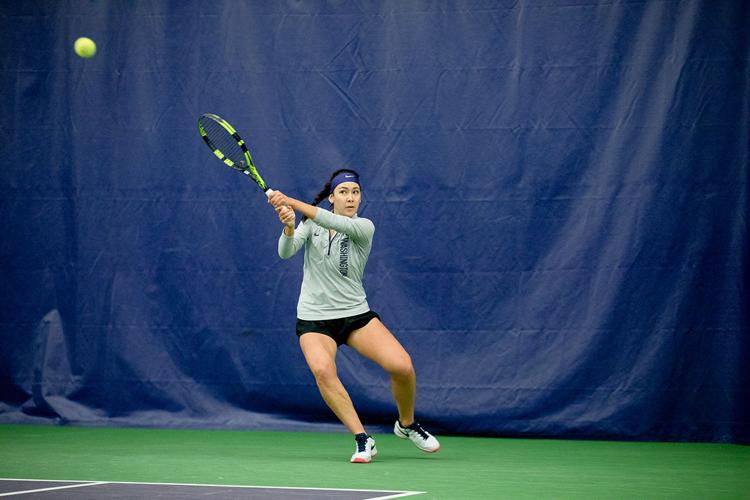 The Washington women's tennis team will look to bounce back this weekend playing Colorado and Utah, after two tough losses in California last weekend. 
"We have to just forget about it and move on," head coach Robin Stephenson said. "It was a really disappointing weekend for us. I thought the girls would come out fresh from being on spring break. We knew there were two really good opportunities for us. Saturday was a tough day the way that it ended and it was pretty disappointing the way we lost to UCLA. We have to get better and compete better. We have to put that behind us and have a fresh start this weekend." 
The Huskies (10-8, 0-3 Pac-12) were without one of their best players for the second leg of the doubleheader, as No. 16 junior Stacey Fung was unable to go. 
"She was having full body cramps in her match on Saturday, she was up 5-4 in the third set, and then cramps got her, and she really couldn't move or do much, so it was unfortunate," Stephenson said. "She just wasn't recovered on Sunday, it was a quick turnaround, and we didn't want to put her out there in any danger." 
After having some time to heal, Fung is expected to play for the Huskies against The Buffaloes (8-5, 1-2 Pac-12) and Utes (9-7, 1-3 Pac-12). 
Beyond the addition of Fung back to the lineup, the Huskies have vital areas that they want to focus on to get back in the win column. 
"We talked a lot about our energy on the court and how we are as a team," freshman Vanessa Wong said. "We're obviously working on stuff on the court as well, so it's a little bit of everything."
The Huskies had additional time to work on these areas, and others, during spring break last week. It was a much-needed break for everyone. 
"We practiced and gave the girls some free time," Stephenson said. "It's one of the only times in the year where they can just be normal people and do things outside of tennis and classes. We practiced every day in the mornings and then did team activities and just let them sleep in their own beds and relax a little bit."
It was crucial to get out of the classroom for a week and have a chance to relax before turning their focus to the backstretch of the season. 
"I think it was nice for our whole team to take a break from class," Wong said. "We all had a tough quarter, so it was nice to reset, and now we're back at it."
Reach reporter Kyle Gehler at sports@dailyuw.com. Twitter: @KyleGehler