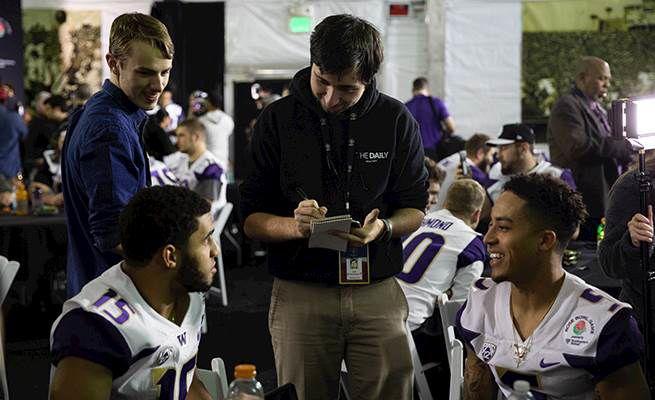 Nobody tell Chris Petersen about this column, OK?
Because not only am I going to focus on another school, not only am I going to talk up a rivalry, I'm going to ask you to look into the future.
Skip this game against USC. Hell, ignore the next two weeks of road games and focus on that Oct. 19 game here at Husky Stadium against Oregon.
The edition of the Game Daily that you're going to see that day is going to look a fair bit different than the ones we usually put out. On top of the 12 normal pages of features, previews, and hot takes, there will be an additional 12 pages of content straight from Eugene, produced by the staff at The Daily Emerald. It's going to be bigger than any Game Daily we've ever put out, and it's going to have some really amazing content. You're definitely going to want to get your hands on a copy.
In the run-up to the game, the two newspapers are competing in a fundraising battle to see who can raise more money. The window opened this past Monday, Sept. 23, and will run through Oct. 19 at 11:59 p.m. (The day of the game).
So yeah, this is a column where I ask you for money. But let me make it more about why I'm asking for money.
Last year, The Daily sent writers and photographers to every road football game, the Pac-12 men's basketball tournament, the first round of the men's NCAA Tournament, and the Women's College World Series. That meant flights to and from Atlanta, Salt Lake City, Las Vegas, Columbus, Oklahoma City, Los Angeles (twice), and the Bay Area (twice). That meant gas money to drive to Eugene and Pullman. And that meant hotels in nearly all of those places.
That access is a tremendous opportunity. In the short term, it lets our coverage of all of those events be that much better. In the long term, it gives us the chance to gain the experience of professional sportswriters and photographers, working on location in the capacity that many of us hope to get to do after we graduate.
But it's also not cheap. Going to college in a corner of the country with just three Pac-12 schools within a reasonable driving range, we have to fly more than most other student newspapers.
So far, we've already raised enough money to pay for a small road trip. With a little help from a lot of people, we can be in an even better place.
Oh, and I'm also asking you to help beat Oregon at something. I know for a lot of people in the UW community, that goes a long way.
You can find our fundraising page at dailyuw.com/fundraising. There, you'll be able to see how the fundraiser is going, how many people have donated, and help out with your own support if you so choose — every little bit helps.
Even if you can't donate yourself, share that link. Tell your family, tell your friends, tell your coworkers. Share it on Twitter or Facebook or wherever you want. Shout it from the top of your lungs on Red Square. Join me in shouting it from the top of my lungs on Red Square.
Just don't tell Chris Petersen.
Reach Managing Editor Josh Kirshenbaum at sports@dailyuw.com. Twitter: @J_Kirshenbaum
 To help The Daily out with its fundraising battle against The Daily Emerald, donate here.