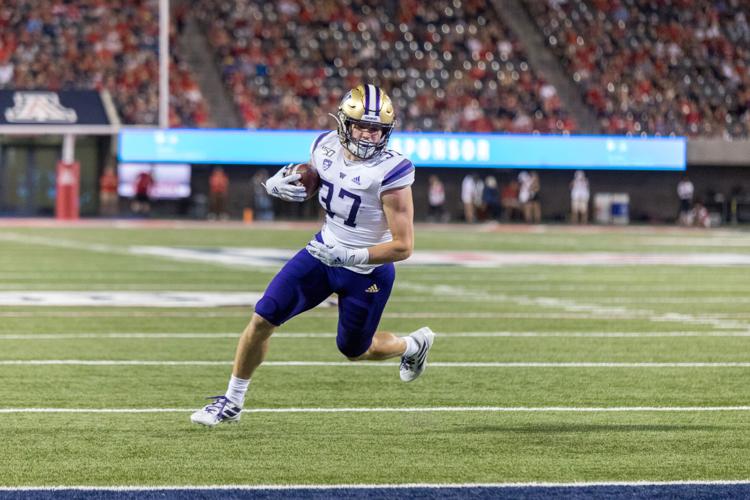 When Jack Westover first stepped onto the field his senior year of high school, it was his first game of football since the eighth grade. 
Normally, a Division I football prospect has four years of high school to rack up stats, playing time, and highlights. Normally, they would have had four seasons to attract some attention. However, that wasn't the case for Westover, whose path to becoming a scholarship player on the Washington football team has been anything but normal. 
After all, he only played two games of football his entire high school career. 
"I didn't really have any recruitment," Westover said. 
Westover had played football in middle school, but he switched to basketball during high school, attending Issaquah High School his freshman year and O'Dea High School his sophomore and junior years. When he didn't see many opportunities to continue playing basketball in college, he headed to Mount Si High School to try football for his final year. 
"I think football, just — there's something about it," Westover said. "I just always enjoyed it, and I think I just wanted to take the chance."
The football experiment didn't last long at Mount Si. By week three of his senior season, Westover was out with a broken collarbone and didn't play another snap the whole year. Due to the four-year hiatus and injury, his recruitment options were slim.
Despite this, Westover, who is known as "Westy" among his teammates and coaches, ended up walking on to the Washington football team in 2018. This October, he was put on scholarship. 
Westover's journey to Washington began at a UW football summer camp in 2017. While he lacked the playing time of the average potential recruit his age, he didn't lack size or athleticism. He managed to catch the eye of some coaches and stayed in contact throughout the year. 
"I mean, he's a [Division I] athlete; they're all big, fast, strong," Mount Si head coach Charlie Kinnune said. "And [Division I] athletes jump out at you on the field, and so all those measurables, he had them all." 
Kinnune, who likened Westover's temperament and ability to "stay neutral" to Russell Wilson, was one of the first to hear about Washington's interest. Former Washington tight ends coach Jordan Paopao asked Kinnune how he thought Westover might react to the possibility of walking on. 
"I thought the parents would support that 'cause they're Huskies and they live in town," he said. "So I told Jordan I think it's a great possibility that he would jump at that. And he did, and the rest is history."
Westover accepted the walk-on offer and came to Washington, redshirting his freshman year. In 2019, he played in all 13 games as Washington's No. 1 fullback, making a catch against Colorado and two catches, one of which was a touchdown, against Arizona. 
However conservative his numbers from last year may be, head coach Jimmy Lake has praised him for his versatility and suggested that Westover will be an important staple in the future offense. 
And he seems to be heading in that direction. In the first game of the 2020 season, Westover almost doubled his total yardage from last year, ending the game against Oregon State with 16 rushing yards. 
"He's come in and done everything we've asked him to," Lake said. "On special teams, on offense. He's tough, he can block people, he can play fullback, he can play wide, he can be endline, he can be spread out — he's athletic."
However important he may prove to be to the offense, his coaches and teammates' reactions to the scholarship announcement make it clear that their appreciation for Westover extends beyond the field. 
When he found out the news, Kinnune texted him right away. Sophomore linebacker Edefuan Ulofoshio, another former walk-on who earned a scholarship in the fall, mentioned that everyone on the team made sure to come together and congratulate Westover when they heard. 
"For [Westover] to be on scholarship, it brings a smile to my face for sure," Ulofoshio said. 
Westover's scholarship sets him on a fresh path. With his walk-on days over, any loose ends that might have been hanging from a hectic recruitment and redshirt year are tied up, putting him in prime position to pick up bigger roles on the Washington offense over the next few years. 
Judging from his already-increased role during the start of this season, it looks like that won't be much of a problem. 
"I think when our other walk-ons see that we reward our guys like that, it's going to make them work even harder to attain that goal," Lake said. "Westy is gonna be a big part of what we do for years here. And I just love how he comes to work every single day; he's a true dawg."
Reach reporter Sydney Nash at sports@dailyuw.com. Twitter: @sydneym_nash
Like what you're reading? Support high-quality student journalism by donating here.