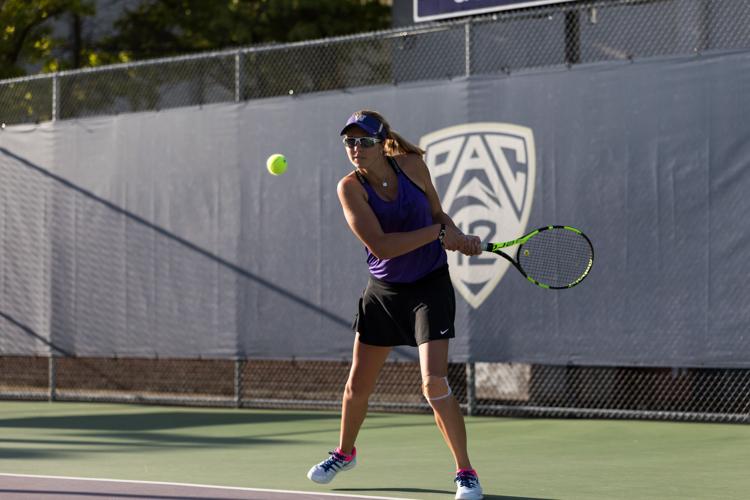 The Washington women's tennis team is preparing for a Sweet 16 matchup against UCLA in Los Angeles later this week. This NCAA tournament matchup will be the third time these teams have met this season.
The Huskies (21-4, 8-2 Pac-12) have lost to the Bruins twice in Pac-12 play, once by a score of 4-1, and more recently in the semifinals of the Pac-12 tournament, where the Huskies dropped a nail-biter, 4-3.
"We know UCLA is a good team and we've seen them before, but it will be important for us to just focus on ourselves," head coach Robin Stephenson said after the Princeton victory last weekend. "We know what we're capable of, and our girls have worked really hard for this opportunity."
The doubles point will be a crucial factor in the match outcome, and the Huskies will need to win it in order to relieve some pressure off players in singles. The Dawgs have lost the doubles point in both matchups with UCLA this year, and have dropped the doubles point in all four of their losses this season. 
In singles, the freshman duo of Sedona Gallagher and Nika Zupancic have been almost unbeatable for the Huskies this season. Neither player conceded a match during conference play, and Gallagher was recently voted to Pac-12 Honorable Mention. The Huskies will be relying on the freshmen to get it done again at No. 5 and No. 6 singles against UCLA. 
Senior Stacey Fung and sophomore Vanessa Wong both secured Pac-12 second team honors this week, and playing at No. 1 and No. 2 singles, these Huskies face the toughest competition on a daily basis. In the Pac-12 tournament, both Wong and Fung won three set matches to give the Dawgs two of their three points against UCLA. With Wong and Fung playing some of their best tennis of the season, the Dawgs will look to rally behind the strength of these two players.
UCLA has had a similar road to the Sweet 16 as the Huskies, sweeping both of their first two matches in the tournament. Neither the Dawgs nor the Bruins have yet to let up a point, but that is sure to change this Friday.
UCLA is seeded at No. 7, three slots higher than UW at No. 10, so the Huskies will travel to Los Angeles for their third and final matchup against the Bruins. The match is set to take place on Friday at 3 p.m.
Reach reporter Caden Conder at sports@dailyuw.com Twitter: @cadenmconder
Like what you're reading? Support high-quality student journalism by donating here.