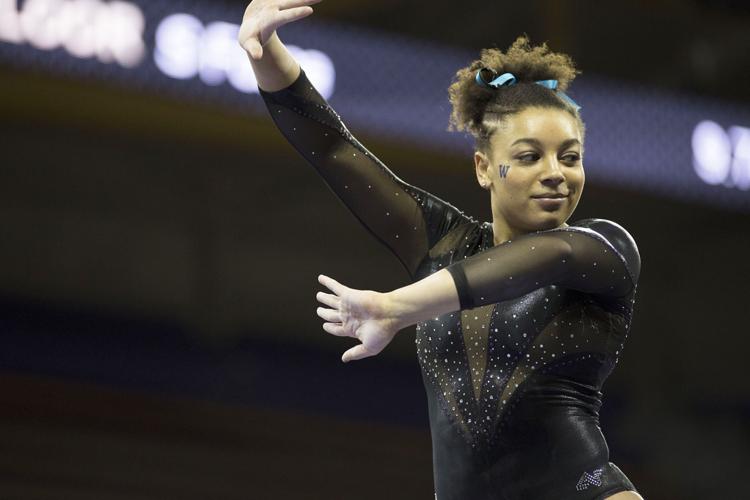 After reaching their season goal of 197 two meets in a row, the No. 10 Washington gymnastics team was catapulted into the top-10 of the College Gymnastics Association rankings. After finishing eighth at the national championship last year, the goal has been to make it back, and it now looks more possible than ever. 
In the last two weeks, the Huskies have shown consistency, and the challenge will be doing it yet again against No. 22 Stanford in the finale of a four meet run against Pac-12 rivals on Saturday at 4 p.m. 
"We're excited to compete against a strong Pac-12 team like Stanford, and of course we're so excited to be home again," head coach Elise Ray-Statz said. 
Returning home will mean familiar equipment and supportive fans, and feeding off that energy usually results in higher scores for the Huskies. 
All but one meet this season has resulted in a higher score than the last, and that's a trend the Huskies will hope to continue. Two weeks ago, at home, Washington scored a 197.000. Last week it improved by .025. 
While consistency is key when it comes to the ultimate goal of making the National Championship once again, and moving on to the Super Six, the Dawgs are also focusing on a goal of consistent improvement. 
"We're coming off two successful meets but the team is hungry for more," Ray-Statz said. "We will keep striving to get better and better each week." 
The Huskies want to show up even stronger than last year against the top teams who will make the National Championship, and they'll have to match some top scores. While Stanford probably won't be one of the 12 teams in St. Louis in the spring, they're a top-25 team led by one of the top gymnasts in the country, Elizabeth Price. 
The Huskies overtook Stanford at Elevate the Stage in the first week of the season, and they'll look to do it again in an even more dominant fashion this weekend. Stanford averages a score just over a 195.5, while Washington looks to score its third 197 in a row. 
Despite several career-high and season-high scores, both as individuals and as a team, the Huskies aren't satisfied with their season high score in Arizona, and this weekend will be a chance to prove themselves yet again. 
Reach Managing Editor Hailey Robinson at sports@dailyuw.com. Twitter: @haileyarobin