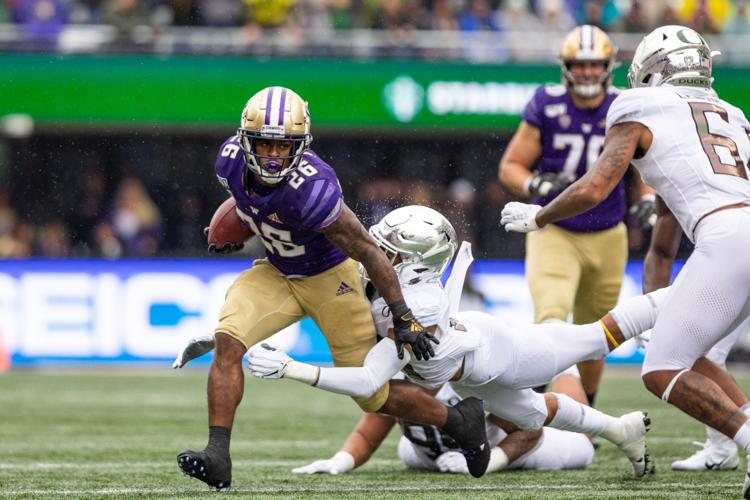 The Washington football team has had a string of successes with local products at the tailback position over the last decade. While Washington-natives Myles Gaskin and Bishop Sankey held the reins to the backfield on Montlake, it seemed inevitable that another local kid would follow suit. Growing up in Kirkland, a mere 15 miles from the UW, junior tailback Salvon Ahmed has filled that role for the Huskies this season.
"This is the thing kids dream of," Ahmed said. "Playing in front of 70,000 fans every Saturday. Getting to play in front of kids, families, people you grew up with."
Now in his third season at Washington, Ahmed has burst on to the scene after spending two years learning from his friend and fellow local Gaskin.
"I took everything I could from Myles," Ahmed said. "As much as I could learn from him, and applied it to myself. Obviously he was a great leader for this university, this team, so I just tried to embrace that role."
Like Gaskin did in his four years as the feature back, Ahmed has become a reliable source for Washington's rushing attack. Through 10 games, Ahmed is averaging 91.5 rushing yards per game and has accumulated 1,065 total yards for the Huskies.
"He's done a nice job, he really has," offensive line coach Scott Huff said. "Not being a one-trick pony, where it's just like, 'Hey, let's get him out on the edge and try to use his speed,' but also running him between the tackles. Honestly, that's probably been the most explosive stuff that he's had, on some of our gap-scheme stuff."
Paving the way for Ahmed is Huff's offensive line — one of the most experienced in Washington history — composed of three seniors, a junior, and a sophomore. The Huskies offensive line helped Ahmed break off an 89-yard touchdown rush against USC earlier this season. Key blocks by senior right tackle Jared Hilbers and senior center Nick Harris sprung Ahmed to the second level as he used his speed to race by the USC secondary on his way to the longest run of his career.
Salvon credits the offensive line for much of his success and is more than grateful for his teammates.
"I think you see the product of it with our running backs," Ahmed said. "We all can go out there and make plays and they make it happen for us. It's up to us to make the play if the hole is gonna be there. They work their tails off every day, and show it in the games."
After three seasons at the UW, Ahmed has cemented himself as one of the key pieces for the university just across the water from his high school and hopes his success proves that other players from his hometown can be like him.
"When I go back to Kirkland, it's inspiring to see," Ahmed said. "Kids are coming up. We didn't really have anyone that went to UW, or was the number one guy who got to be a part of something like this. That's just what I want to be to my community."
Ahmed is an inspiration for his community members and as a leader in the clubhouse, gaining valuable experience toward his future career path. Salvon studies education at the UW and hopes to become a school adviser or counselor for middle school students after his playing career is over.
As for the rest of this season, Ahmed wants to build some confidence that can carry over to next year.
"It's about finishing," Ahmed said. "We've had glimpses of being a really good team this year. We have to go out there and put a full game together with that glimpse and show, 'Hey, we got something coming next year.' Obviously just finish the season strong and kind of prove to ourselves that we can."
He still has a full season to finish writing his story at the UW, but Salvon Ahmed has already proved that the Huskies success with local running backs is no fluke. Does Ahmed still talk to Gaskin, or has their friendship faded since Gaskin finally left his hometown to join the Miami Dolphins in the NFL?
"I still talk to Myles every day," Ahmed said. "He's my best friend."
Reach reporter Anthony Edwards at sports@dailyuw.com. Twitter: @edwardsanthonyb
Like what you're reading? Support high-quality student journalism by donating here.