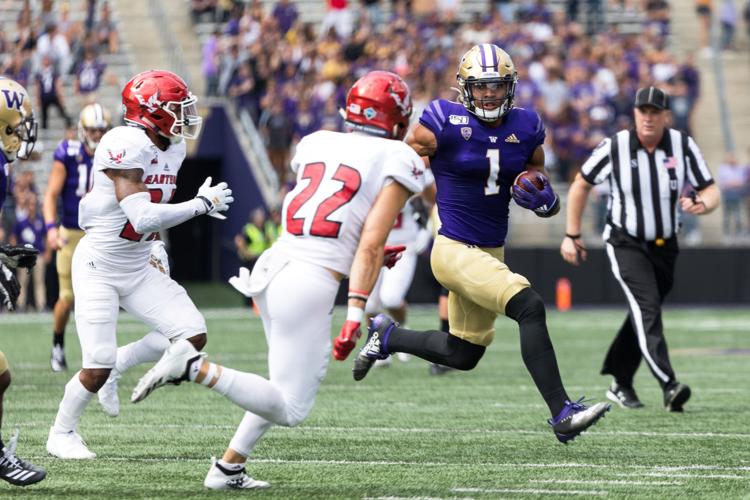 For Hunter Bryant, it's the little things.
You know, like moving.
"Just being able to walk and do simple things sometimes," Bryant said. "I'll be walking down the stairs, and be like, 'I remember when I was on crutches, this is such a huge improvement.' Every time I come on the field I'm just really thankful."
After emerging as one of Washington's top pass-catching options as a true freshman — with a coming-out performance against Cal, coincidentally — Bryant's first year on Montlake ended abruptly with a season-ending knee injury in October. The pain never really went away, and in June, he ended up needing surgery, putting out an Instagram post of his leg in a brace to let everyone know he'd be out for an extended period of time.
From there, the rehab process began anew.
"I just wanted to come in here and make as big an improvement in one day as I could," Bryant said. "Then just repeat that, day after day."
But as the Huskies took the field in August for training camp, he had to deal with being off the field and not practicing as his teammates got going.
"I think for [Bryant], it was a little more of a mental game," tight ends coach Jordan Paopao said. "Just being able to really, truly focus on his assignments, being able to study coverages and defensive football, and grow just a little more of the periphery knowledge of the game of football. While he wasn't getting physical reps, he was getting a lot of mental reps."
Meanwhile, instead of doing his physical work with his fellow tight ends, Bryant was going through physical therapy with the other Huskies working on coming back from injuries. He said that during that process, injured players — he specifically named wideout Quinten Pounds and linebacker Brandon Wellington, two Huskies returning from torn ACLs — formed their own group, leaning on each other to get through it all.
"It's hard not being able to go out there and run and do what you want to do," Wellington said. "You're watching you brothers and taking mental reps, and watching them do it over and over again. It's hard to go through that process, and I'm not knocking anybody that's gone through it. 
"We did lean on each other at times. If he's down, I'm going to pick him up. If I'm down, he's going to pick me up."
Paopao described Bryant's process of rehabbing as "kind of a blessing in disguise," as it gave Washington's younger tight ends more chances to get game reps.
One of those younger guys was Cade Otton, who came in with Bryant as a true freshman in 2017 but redshirted his first season with the Huskies.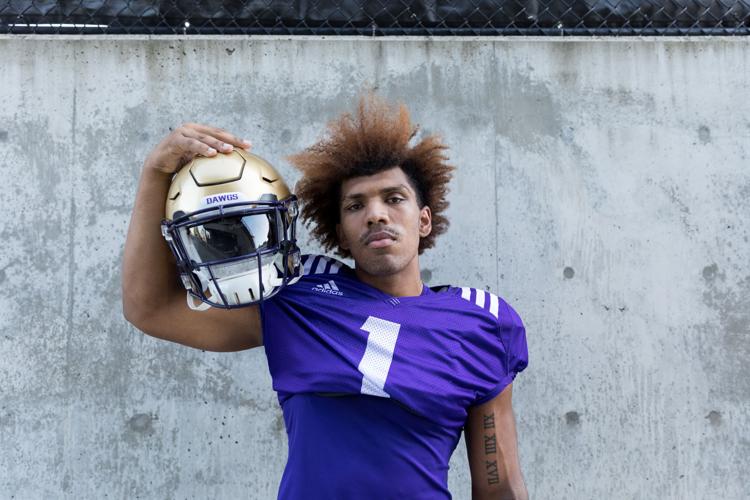 In Bryant's absence, Otton moved into the No. 2 tight end spot next to then-senior Drew Sample. He finished the season with 174 receiving yards and three touchdowns on the field. Off of it, he spent training camp and the beginning of the season building his relationship with Bryant and keeping his injured teammate in the game mentally.
"I think when you're injured, it's easy to be disconnected," Otton said. "When you're rehabbing all of the time, you're focused on that a lot. Just being able to talk about football and keep him engaged. And he did a really good job of that, and that's a credit to him for being locked in."
Bryant ended up making his goal, returning to the field in Week 10 with a catch against Stanford. He played in five games, and despite missing nearly two-thirds of the season, the 253 receiving yards he finished with were fifth on the team at the end of the year.
"That was my personal goal," Bryant said. "I kind of made my mission to come back and not miss the whole season. I was able to do it, so I was pretty happy with myself."
Nine months after the Rose Bowl — after spring ball, summer work, and training camp — Bryant took the field against Eastern Washington, going into Week 1 with health and game experience for the first time in his career.
The junior tight end led the Huskies with six catches for 81 yards against the Eagles. It's the fifth game in his career that he's led the team in either receptions or receiving yards.
"It was a lot of fun," Otton said. "He's a great player, so being able to play with him and play off of each others' strengths, it was really fun. Playing on Saturday was a lot of fun, and we're going to continue to build off of that."
Now with that experience of overcoming a major injury, and with Sample the latest UW tight end to move on to the NFL, Bryant has taken the lead within the young group.
This time around, he gets to do so from the field.
"Personally, I love leading by example," Bryant said. "I feel like if they just see me go out and be calm and do what I do … they'll just follow the lead."
First though, is the matter of this season. For Bryant, it's all about putting a full season together for the first time in his career. He's trying to become a more complete tight end, improving his run-blocking to follow in the footsteps of Sample and Will Dissly. In Jacob Eason's first year as the starting quarterback, he's trying to become a No. 1 option in the passing game. 
And come the end of the season, Bryant is projected to be one of the top tight end prospects in next year's NFL draft and could become the first UW offensive player to leave early since John Ross in 2016.
You know, little steps.
Reach Managing Editor Josh Kirshenbaum at sports@dailyuw.com. Twitter: @J_Kirshenbaum
Like what you're reading? Support high-quality student journalism bydonating here.