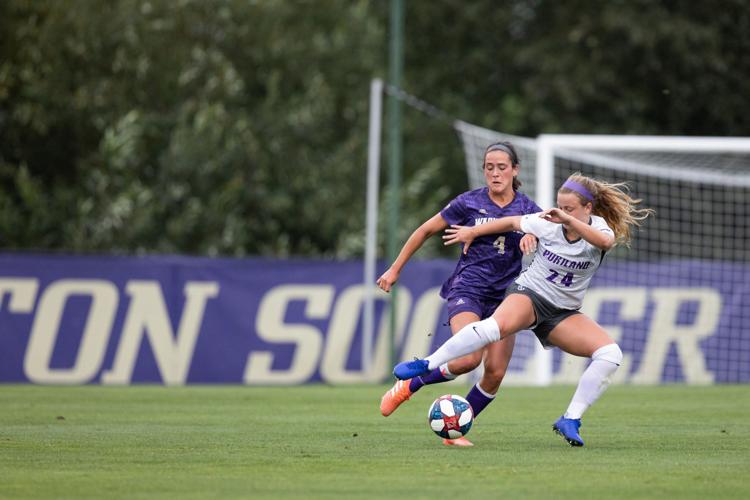 Last season, the Washington women's soccer team lost two key pieces on defense to injury in Jessica Udovich and Shae Holmes. There was a spot to fill and head coach Lesle Gallimore went to an unlikely player to step up.
Freshman Helena Reischling played all of her illustrious high school and club career at the outside forward position, a career in which her school won a state title and she was named a prep All-American.
Gallimore called Reischling's number because she's built for the position, she can play any position on the flank, has the endurance to do so and a myriad of other reasons that make her a swiss army knife of sorts for this soccer team.
Reischling did not have any easing into the position as far as gametime. She not only started in the team's first four games, but she has played all but 12 minutes of the season so far.
"She's really adjusted well to the pace of college soccer," Gallimore said. "She still has a ways to go in understanding the position and learning, over 90 minutes, how to stay connected with the backline, and how to pick and choose her times to attack, and those kind of things, but overall, she's been outstanding for us, and I think she's got such a great upside to her."
And the transition has been successful, Reischling and the rest of the UW defense launched the 2019 campaign with a 256-minute shutout streak. The Dawgs have allowed four goals on the season, but three of those goals came against No. 1 North Carolina. 
The backline that surrounds the freshman is about as good as gets, with co-captains Taylor Sekrya and Lisa Jensen and junior Kaylene Pang helping her get acclimated to the position. 
"[They've taught me] probably everything I do know so far," Reischling said. "Just because I'm so new to the position, so they've helped me a lot with communication, positioning, where I should be, how to drop back, kind of all the basics of being a defender."
The three other defenders have a combined 12,186 minutes under their belts and a wealth of knowledge at their disposal.
The return of Udovich and Holmes is on the horizon. The two have been practicing and could make their season debuts for the Huskies within the next couple of weeks.But this has been a golden opportunity for a freshman to make an early first impression on the coaching staff and the rest of the team. Time will tell if that impression will be good enough to cement a spot in the starting lineup.
"I just want to prove myself and what I'm capable of until they get back," Reischling said. "So I'm just taking advantage of the minutes I've been given."
She'll have another chance to impress when the team heads south to Portland for a neutral site game against Denver on Thursday at 5 p.m.
Reach reporter Josh Eddy at sports@dailyuw.com. Twitter: @JoshTreEddy
Like what you're reading? Support high-quality student journalism by donating here.