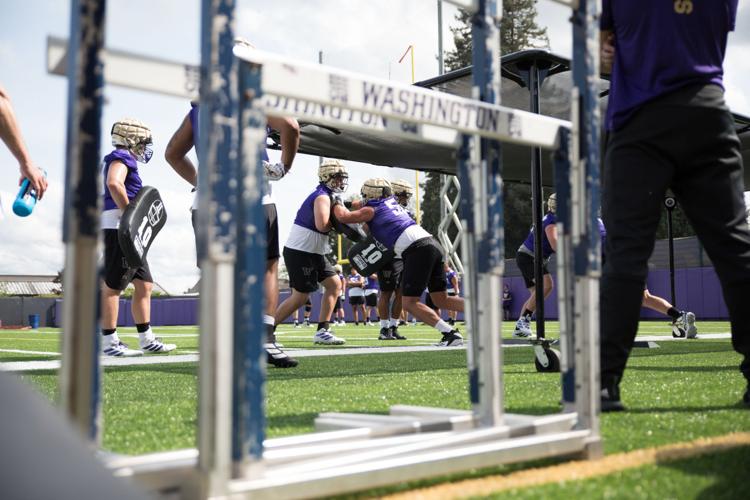 With fall camp opening on Thursday, the Washington football team was excited and ready to get back on the field. Then the Huskies did the unexpected: they cut practice short.
On the schedule the UW sent out earlier in the week, Thursday's practice was scheduled to run until 5:05 p.m. So when the players ran to midfield to huddle around Chris Petersen just after 4:30, it came as a surprise.
After practice, the coaches said it was by design, not to do anything special on the first day of camp, but keeping in mind the second.
"In years past, our guys are so hungry to play that first practice that they are just dead tired the next day," defensive coordinator Jimmy Lake said. "I think Coach Pete and our strength staff did a nice job to shorten it down a little bit, because we know these guys just want to go flying around and go make plays. Now, I think we're going to get a fresher team tomorrow, build them up a little bit more, and then again the next day."
According to Pete Kwiatkowski, the coaching staff is hoping that a lighter workload to open camp up is going to help limit day-to-day injuries.
The shorter length was only one of the noticeable changes to practice visible on Thursday.
While the Huskies weren't playing in pads, they did have helmets on, and all of the linemen — both offensive and defensive — wore padded Guardian Caps on top.
The hope is that the extra head protection will limit the damage from repeated head contact in the trenches.
"You can't stop them from banging heads, so it's a way to try to minimize the blows," Kwiatkowski said.
All of the coaches said that the changes came from Petersen, strength coach Tim Socha and the medical staff. 
The changes began on Thursday, but only time will tell which ones will work and stay.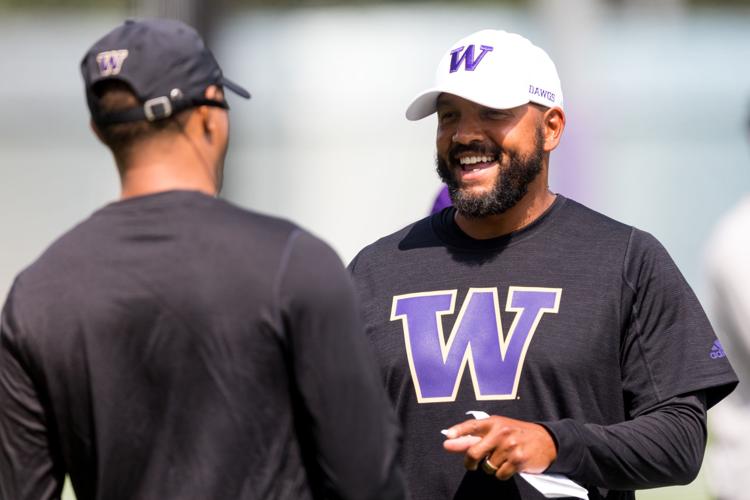 "I think everything that we're doing in terms of offseason studies is slowly paying off," defensive line coach Ikaika Malloe said. "And we'll see. We'll see at the end of the year, all those things we did at the beginning, what were the positives."
Bryant all over
Going into his senior year, Myles Bryant has two years' worth of starting experience at nickelback. He's seen plenty of action at corner, and in the spring he started playing safety. 
So in Lake's loaded secondary, where does he best fit in?
"If we had five of him, that would be awesome," Lake said. "He's going to be all over the place, I can guarantee you that."
Thursday, Bryan played safety with the starters, next to true freshman Cameron Williams. He started out at free safety for the first snaps of 11-on-11, then switched to strong safety a few plays later.
"I feel like the more positions you can play, the more valuable you are," Bryant said. "I'm just learning all I can right now. It's exciting for me; I like learning about football, learning new things that pertain to football."
Other notes
- Let the quarterback talk commence. Jake Haener took the reps in 11-on-11 with the first-team offense, with Jacob Eason leading the second team. Later in the practice, Eason got time with the starters.
For what it's worth, the only touchdown of the day was thrown by true freshman Dylan Morris to Trey Lowe.
-There weren't a whole lot of surprises in the first rendition of the UW starting defense. Here's how it lined up (keep in mind that it's Aug. 2 and we've got a long way to go): 
Tackles: Levi Onwuzurike and John Clark

Inside linebackers: Brandon Wellington and Kyler Manu

Outside linebackers: Joe Tryon and Ryan Bowman

Corners: Kyler Gordon and Keith Taylor

Nickel: Elijah Molden

Safeties: Bryant and Williams
The second time that group went out onto the field it looked the same, but with Benning Potoa'e replacing Clark at tackle.
- Behind Wellington and Manu, Washington is very green at inside linebacker. Today, Jackson Sirmon and Edefuan Ulofoshio got reps with the second-team defense.
- Lowe made an impressive one-handed snag on a go route up the seam against true freshman Trent McDuffie. A couple plays later, another freshman, Puka Nacua, made another highlight-reel play catching a tipped ball with his feet from his back. 
Reach Managing Editor Josh Kirshenbaum at sports@dailyuw.com. Twitter: @J_Kirshenbaum 
Like what you're reading? Support high-quality student journalism by donating here.