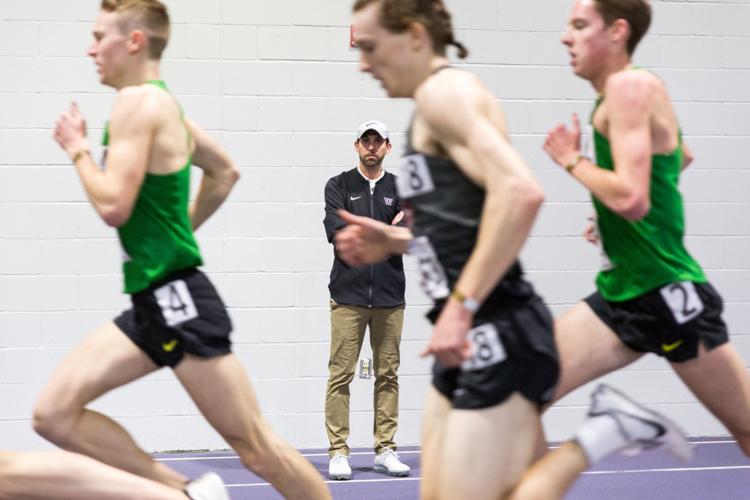 Although Pac-12 championships marks the last chance for each individual athlete to qualify for NCAA West Preliminaries, Washington's main focus has been growing as a team. Being seen as an underdog has helped improve the team's mindset.
"We're really excited and the atmosphere is really good and super positive," head coach Andy Powell said. "We have a healthy group coming in and we know we can improve off of what we did last year. One thing we've talked about is that we're underdogs, and I don't know if we're gonna be in this situation, but everyone knows we're up and coming."
In head coach Andy Powell and Director of Track & Field Maurica Powell's first year at Washington, they have appreciated how quickly each different group has bonded together. The unity of UW track has made them confident that they will meet expectations at championships.
"Coming together for an entire track team who are in the end of the day a team is something really unique in college sports," Maurica Powell said. "The special part of this meet is that everything is collective. I think we can cultivate the group dynamic from the top down, but really it's got to come from the kids that they're buying in the whole thing."
Each week, Andy Powell passes out papers to each athlete highlighting the standards necessary in order to gain points for each meet. Educating them on what it takes gives each athlete an idea on how to prepare for that upcoming meet. The consistent preparation has made an important event like the Pac-12 championships simply another chance to compete.
"These kids are learning how to handle themselves in different situations, and work together for a common goal," Maurica Powell said. "I think they're ready and go out and see what they can do."
For some, this is their last ride. Maurica Powell has emphasized the importance of staying in the moment. She constantly reminds the seniors to focus on their past success and transfer that to the championships.
"We try to steer away from the idea that it's the last ride because it's a bit overwhelming," she said. "It's a bit overwhelming to think about steering down the barrel for the next chapter in their lives. Trying to keep them present is the most important thing."
To qualify for Western Prelims, an athlete needs to be in the top 24 in the west region for their respective event. Twenty-one athletes would currently qualify, and many are close enough to have a chance to be eligible for Prelims.
"Our goal for everyone is we want them to be the best version of themselves," Maurica Powell said. "Everyone has a great chance of scoring points. It's a byproduct of each person buying into the process and executing their gameplans. As long as everyone has their best day, we'll be happy."
Reach reporter Daniel Li at sports@dailyuw.com. Twitter: @Daniel_Li7
Like what you're reading? Support high-quality student journalism by donating here.