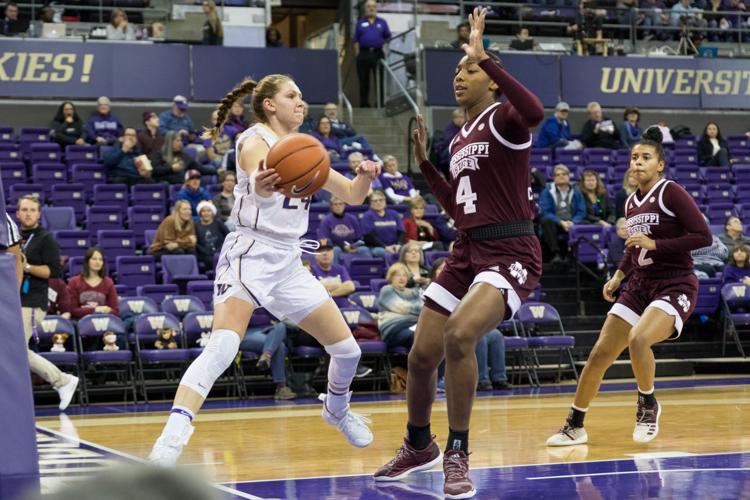 For the Washington women's basketball team, despite how it ended, it looked at its nonconference schedule as the right kind of preparation it needed in anticipation of its conference season.
When they scheduled Ohio State, Duke, No. 8 Mississippi State, and faced off against the likes of Michigan, the Huskies (7-5) knew exactly what they were doing, despite their measly record a season ago.
Now, head coach Jody Wynn hopes to see the payoff this Sunday when the Dawgs take on Washington State in the Boeing Apple Cup Series at Alaska Airlines Arena.
"Even though we are young and are still trying to build confidence, it's really important for us to be challenged," Wynn said. "If you don't do that, and conference comes you might get hit in the face; we've put ourselves in positions where effort alone isn't going to win games."
The past two games Washington has played, that has been true. The Huskies shot a combined 33.5 percent from the field, and just 29 percent from distance, in a close loss to Boise State and a blowout defeat to Mississippi State.
Despite that, senior guard Jenna Moser thinks the Huskies are much more confident this season heading into their Pac-12 opener against the Cougars (5-6).
"Things have slowed down more this year," Moser said. "Everyone was so new last year, it's a different feeling this year. There's more confidence, and more of a chip on our shoulder."
Speaking of that chip, Moser cited the Pac-12 poll that had the Huskies finishing last in the conference for the second straight season as motivation this upcoming conference season.
"There was more of a reason this year when your picked last that doesn't sit well with anyone," Moser said. "Two years in a row, that sucks. I feel like we have a lot to prove and we are ready to do that."
The Cougars, winners of four of their last six games, will present a stiff challenge in the Dawgs home conference opener.
"We didn't finish nonconference the way we wanted," Wynn said. "Everybody feels prepared, in the sense that we've been challenged. We've won some good games that were tough, we've had to perform down the stretch, and everyone has gotten significant playing time."
Preparing for Bobby Buckets
The Cougars are led by star Borislava Hristova —  aptly nicknamed "Bobby Buckets" — who is averaging just under 22 points per game. Washington beat WSU last season in its only conference win at Hec Ed a season ago, with Hristova scoring only three points.
"When we played them here last year we just worked a lot harder than them," Moser said. "We took [Hristova] out of the game a little bit, and that's consistently been the key to beat them. You have to take down the head and the body follows."
Both both Moser and Wynn understand the importance of limiting the entire team, and not just one player. The Cougars return both Chanelle Molina and Alexys Swedlund from last season, who average 15.8 and 12.9 points, respectfully.
"It's not just a one-player show over there," Wynn said.
Reach Assistant Sports Editor Alec Dietz at sports@dailyuw.com. Twitter: @AlecDietz
Like what you're reading? Support high-quality student journalism by donating here.