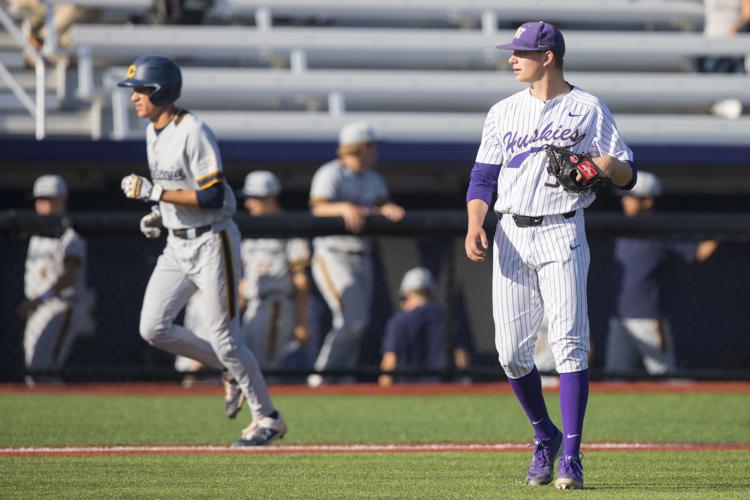 After going 12-17 in conference play during the 2019 season, the UW baseball team will try to recover its stride from a 2018 campaign that ended in Omaha for the first time in program history.
Ranked sixth in preseason Pac-12 polls, the Huskies enter 2020 completely unburdened by expectations. With a heavy dosage of change up and down the roster, here's a glimpse at who might take the field this weekend.
Pitching
One player who may face expectations this season is junior Stevie Emanuels. The hard-throwing righty enters his third year at the UW as a potential high-rising prospect in the upcoming draft. Emanuels, who came out of the bullpen for the majority of 2019 with a 2.35 ERA, looks to replicate those results as a starter.
"I've been preparing for the whole starting role for a while now," Emanuels said. "As far as transitioning into that role, I think it should be pretty seamless. I feel like it's kind of the role I'm meant to be in."
Meanwhile, sophomore starter David Rhodes enters the season poised to follow in Emanuels' footsteps as a breakout second-year player. Rhodes, who walked 27 batters in 67.0 IP last season, has demonstrated much better command coming into 2020.
"David's throwing a better breaking ball, way more consistent in the strike zone," head coach Lindsay Meggs said. "He's throwing a changeup, which he didn't have at all last year. You could call him a two-pitch guy last year, but very rarely would he have two at the same time. Now he usually has two pitches to work in."
Junior southpaw Jack Decooman aims to lower his 7.15 ERA from last year as another member of the starting rotation, while proven junior college transfer Logan Gerling comes to Washington riding the confidence of a 15-1 record in his last two years at Tacoma Community College. Meggs said Gerling could come out of the bullpen and start this season.
Come the ninth inning, senior right-hander Leo Nierenberg will need to harness his fastball and slider to hold down the for as the closer. If he does so, Meggs said other players, like Gerling and two-way transfer Davis Delorefice from Orange Coast College can assume their own roles in the bullpen. Another option at closer will be former Everett Community College righty, junior Gabe Smith.
Infield
Behind the pitching staff, a few question marks hang low over an infield full of new faces entering Friday evening. To start, proven Orange Coast College transfer Tommy Williams has been battling freshman Christian Dicochea over the hot corner in a competition that may not be decided until after the season starts.
Across the infield, while sophomore Noah Tsue puts the finishing touches on his recovery from ACL surgery, freshman Dalton Chandler comes in with an opportunity to earn himself more playing time.
"I don't know that Noah is ready yet. He will be soon," Meggs said. "It's a good opportunity for Dalton to get some at-bats early. We're gonna need both of those guys, and I could see a right-left platoon going on there."
Across the infield, baseball fans will see another new face. Freshman Will Simpson demonstrated a lot of offensive ability this fall, and the Huskies hope it translates into some much-needed production at first base this spring.
In a much more solid situation at shortstop, senior switch-hitter Ramon Bramasco enters his second season as a Husky. As one of only two players to start all 52 games in 2019, Bramasco hit .284 as a solid contributor in the lineup. This year, he brings a veteran presence to the middle of an infield with very limited Pac-12 experience.
Finally, behind the plate, junior Michael Petrie has been pushed mightily by freshman Johnny Tincher in the race to fill the hole at catcher following the departure of Nick Kahle.
"Michael Petrie obviously has a lot of experience," Meggs said. "Johnny's really talented and really pushing him. We're gonna need two guys. If we were to play tomorrow, we would likely run Michael out there."
Outfield
Unlike its infield counterpart, the outfield returns a few more familiar faces in 2020. Junior left-handed hitter Braiden Ward, two-time reigning Pac-12 stolen base champion, returns at center field. Ward, who hit over .300 in both of his years as a Husky, has a lot to prove as he prepares to make a case for himself to Major League scouts.
"I've noticed a very intentional effort [in Ward] to help out our younger guys. We're gonna need that out of him," said Petrie. "Overall in the field, we expect great things out of Braiden because he's so talented."
Alongside Ward, in right field, junior Christian Jones returns from his thumb injury as a formidable lefty hitter in the lineup. Jones, who hit .264 and started 52 games in 2018 as a sophomore, sat out effectively all of last year. Now, he's back, either as designated hitter or out in right.
"We really missed [Jones'] bat in the lineup last year," Petrie said. "It's been great to have a power threat in the middle of the order."
Outside of Jones and Ward, the Huskies will have a barrage of other major contributors to rotate in and out of the outfield. Delorifice will spend time in left field in between bullpen outings. When he's unavailable, rapidly improving freshman Preston Viltz will attempt to solidify his own playing time, both in the field and at DH.
Junior fielding extraordinaire Kaiser Weiss rounds out the platoon situation as a viable option in both center and left field. Weiss has committed only two errors in his two-year collegiate career.
Reach reporter Nicholas Mendro at sports@dailyuw.com. Twitter: @m_mendro
Like what you're reading? Support high quality student journalism by donating here.