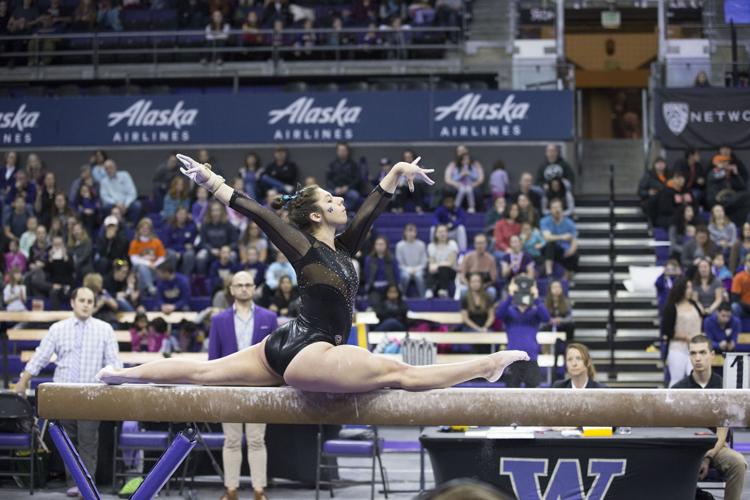 The No. 13 Washington gymnastics team will have its third in a series of four tough Pac-12 matchups as it faces No. 17 Arizona State this weekend in Tempe. 
The Sun Devils score an average of 195.775, but, like the Huskies, have improved their scores as they've settled into the season. Meanwhile, the Dawgs are coming off their first 197 score of the season against No. 11 Oregon State, and are looking to prove themselves against another conference team, this time on the road. 
"To hit the magical 197 was a huge step for them this season, and now they know they can do it," head coach Elise Ray-Statz said. "The challenge will be to do it again, and again."
The Huskies are ready for that challenge. For the team, familiar home equipment leads to higher scores, but the National Championship won't have that level of comfort. Now that the Huskies have scored a 197 once on their own equipment, the goal is to compete at that same level while away. 
Junior Monica Riley, who scored a 9.900 on bars two weeks in a row, should be a leader for the Huskies on that event, as she's already proved herself capable on that event both at home and away. After that first career-high score, which she matched again this weekend, she credited the mental aspects of gymnastics for her strong performance. 
Washington's gymnasts are more than capable of top scores in the practice gym, and now at home as well. 
"Coming off a great home score will hopefully give the team the confidence needed to take that same competition on the road," Ray-Statz said. 
Scoring a 197 pushed the Dawgs up three spots in the rankings to No. 13, indicating what an important achievement this is for the team. But the Huskies' 197.175 against Arizona last year at home was their only score in the 197 range in the regular season. The goal this year is to perform better than last, and beyond making the Super Six at the National Championship, that means more 197s in the regular season. 
The Huskies will face the Sun Devils Saturday at 10:30 a.m. The meet will be available on Pac-12 Networks.  
Reach Managing Editor Hailey Robinson at sports@dailyuw.com. Twitter: @haileyarobin