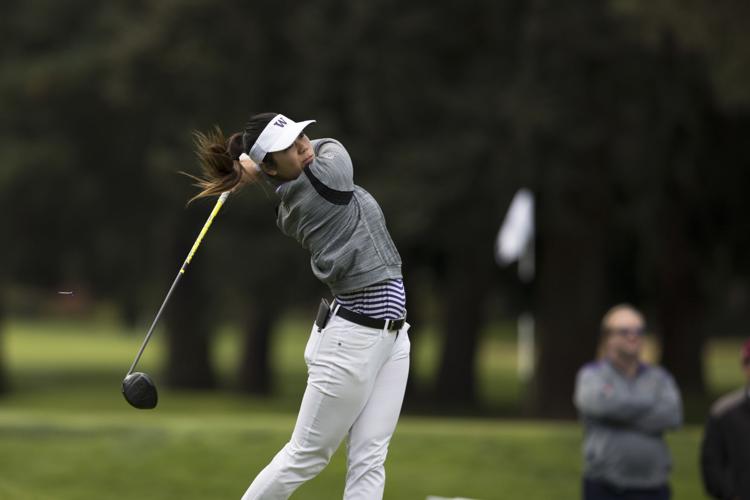 Wenyung Keh certainly picked a good time to go off.
The junior out of Auckland, New Zealand shot nine birdies and no bogeys en route to a UW-record 9-under 63 in the first round of NCAA regionals in Tallahassee, Florida, and the No. 15 Washington women's golf team ended the day atop the field at the Don Veller Seminole Golf Course with a score of 15-under 273. It's Washington's best-ever 18-hole score and the best round score any team has carded at a regional since 2009.
"You want to start out good because you can't win the tournament on the first day but you want to kind of put yourself behind an eight ball and to come out now and just build on that momentum and feel like you're going in the right direction," head coach Mary Lou Mulflur told GoHuskies.
Keh started play on the 10th hole with a birdie and never slowed down. A few hours later, she ended her day just the way she started it — with her ninth and final birdie. Her 9-under broke the program record of 7-under 65, set in 1997 by Dodie Mazzuca, as well as the course record.
"I felt like today I just made sure I was staying in the present and focusing on one shot at a time and just being there for every shot," Keh told GoHuskies. "I didn't think about score or anything. It still feels pretty unreal. I felt like I was playing just pretty average and wasn't hitting it especially great but it just happened."
Keh wasn't the only Husky to have a good day. Junior Sarah Rhee finished four shots behind her to end the round in a three-way tie for third at 5-under 67. Like Keh, Rhee went all 18 holes Monday without going over par once.
Junior Julianne Alvarez made it three UW golfers to end the day in the top-10, shooting 2-under 70 to tie for 10th. The only stumble of her day came on a bogey on the par-5 15th hole, but she came right back to birdie on the par-4 16th.
Freshman Rino Sasaki followed Alvarez for the Huskies. She shot back-to-back birdies on the back nine, but bogeyed two of the final three holes to finish in a tie for 33rd with a score of 1-over 73. Sophomore Karen Miyamoto shot 6-over 78 to round out the Washington squad in 76th.
Washington's 273 gives the Huskies a commanding seven-shot lead over the second-place Furman. The Huskies' 21 birdies tie them for most at the regional.
The previous UW round score record was 9-under 275, set in March 2015.
"It's just really fun to see them go out there and really play exceptional golf," Mulflur told GoHuskies.
The Dawgs will continue their campaign in Tallahassee tomorrow, beginning play at 6:50 a.m. PT.
Reach Sports Josh Kirshenbaum at sports@dailyuw.com. Twitter: @J_Kirshenbaum