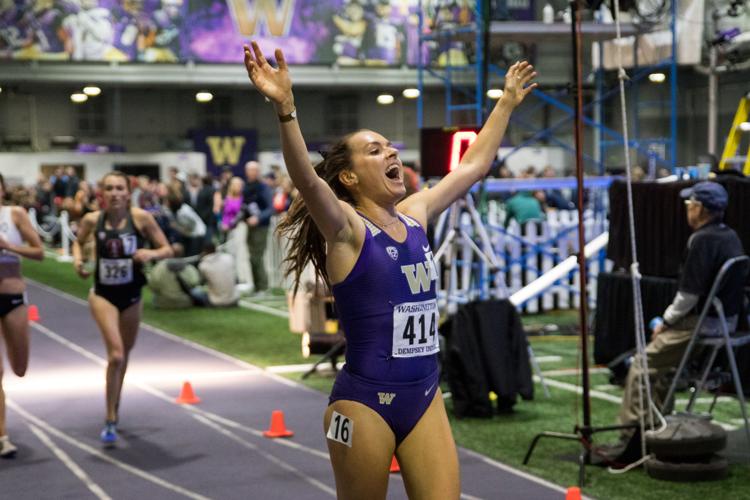 In the only day of a shortened Husky Classic, fifth-year senior Izzi Batt-Doyle ran the 5,000 meters in 15:40.53, previously breaking the UW program indoor record, held by Megan Goethals, by almost 15 seconds.
"I think it's a mindset; I'm just tougher from the training and injuries, and I know I've put in the work," Batt-Doyle said. "I have a great environment with my coaches and teammates around me.
Batt-Doyle ultimately finished fourth in the race.
An Australian native, Batt-Doyle broke through her 2016-2017 outdoor track season by advancing to her first NCAA Outdoor Championship Finals and finished 12th in the NCAA Outdoor 10k final with a 33:49.61 to earn All-America Second Team honors. Two weeks ago at the UW Invitational, Batt-Doyle broke her personal record in the 3,000-meter run by almost 36 seconds. 
Director of Track & Field Maurica Powell believes Batt-Doyle's growth has allowed her to break through the last two events.
"The hardest thing for Izzi to manage is training too hard," Powell said. "She always wants to train more, and you don't want to squash that in an athletes. She's starting to learn that she's talented and she's a great competitor. With her, she's a mature kid. She's been really communicative and has bought in early."
Batt-Doyle is excited to see how her adjustments will help through the rest of her track career.
"This is my last time and first time at the Dempsey and I just want to make the most of it," Batt-Doyle said. "I hope to go on and race professionally and this experience is gonna really help for the future."
Schadler breaks into UW top 5 for indoor mile
Sophomore Allie Schadler ran the fifth-fastest indoor mile in school history at the Husky Classic with a time of 4:37.12. She surpassed Eleanor Fulton's 4:37.26 mile in 2016. Racing against multiple Olympians, Schadler held her ground and ultimately finished sixth in the race and second among collegiate athletes.
Better known for her cross-country and outdoor track prowess, Schadler wanted to keep her approach simple.
"I just wanted to go out there and compete," Schadler said. "My coach told me to not worry about the time and to just stay relaxed and I tried doing that."
Powell emphasized Schadler's ability to block out distractions that allowed her to break into the top five.
"Allie is a kid who I think is getting a lot of confidence," Powell said. "She's starting to learn how to listen to herself and trust her instincts. With a few Olympians in the race, she needed to focus on herself and not overextend herself early in the race."
Other Notes from the Husky Classic:
- Junior Katie Rainsberger ran into the top-three of the 3,000-meter-run in indoor school history with a time of 9:02.84.
"Each time you race against really good competition, you learn about yourself, your competitors, and you learn to push the envelope, and you'll be better because of it," Rainsberger said.
- In his indoor long jump debut, sophomore Jaylen Taylor won the men's long jump with a leap of 21-10.25.
Reach reporter Daniel Li at sports@dailyuw.com. Twitter: @Daniel_Li7
Like what you're reading? Support high-quality student journalism by donating here.