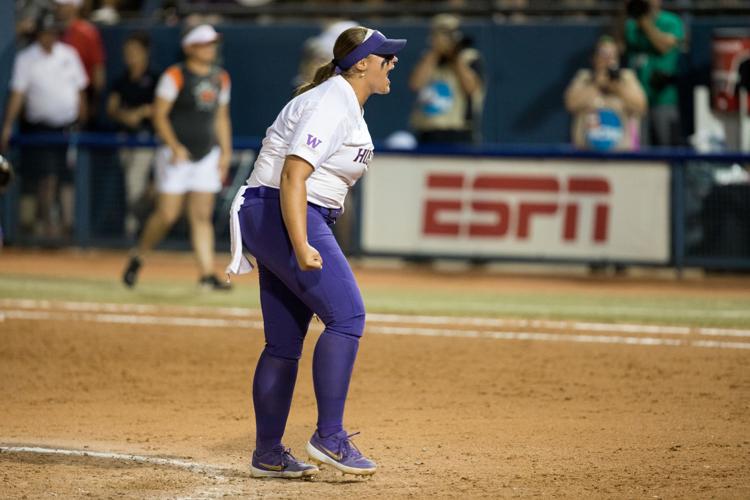 OKLAHOMA CITY — Sometimes, you just need your ace to lead the way.
Facing elimination for the second time today, senior Taran Alvelo did all that and more for the No. 3 Washington softball team in a 1-0 win over No. 13 Oklahoma State.
"My goal as a pitcher is to get outs, and that's all I was doing," Alvelo said. "My mindset was to get each person out, whether it be a strikeout, a pop-up, a ground ball, or something else."
This time around, it was mostly strikeouts — 16 of them, to be exact — in a three-hit shutout. She struck out the side in the first inning, the third, and the fourth, and she had at least two punchouts in every frame until the seventh.
In the end, Alvelo (26-5) needed just 95 pitches to get through seven innings, and only reached three three-ball counts.
"(That's) one of the most mature games she's thrown as a Husky," head coach Heather Tarr said. "It's great to see her be able to thrive and take all the things she's learned and continue to stay tough and do it for her team.
Alvelo becomes the third pitcher in program history to strike out 16 in any game, after Danielle Lawrie and Caitlyn Noble. When she struck out Kiley Naomi in the top of the fifth inning for her 13th of the game, she passed Lawrie for most in a WCWS performance.
Washington took a slim lead in the bottom of the fourth, with Amirah Milloy drawing a roller through the right side of the infield to score Taryn Atlee from second.
"It was exciting," Tarr said. "We wanted to score more, we had a few more chances, but that was all we needed today."
Alvelo had a chance to tie the WCWS record for strikeouts in a game of 18, set by Cat Osterman in 2005, but fell just short.
UW had its chances early. In the bottom of the first, Sis Bates rolled an infield single down the third-base line and Morganne Flores drew a walk to put a pair on with no outs, but three fly-outs ended the threat. In the bottom of the second, Amirah Milly hit a deep fly ball that looked out for a two-run homer, but OSU center fielder Chyenne Factor leapt up and brought it back to preserve the scoreless deadlock.
Alvelo only gave her defense so many chances to make plays, but the Huskies behind her still managed to help out in a big way, particularly first baseman Kaija Gibson, who crashed in hard to make a diving catch on a popped-up bunt in the fifth inning.
In the top of the seventh, Alvelo struck out the first two batters before Madi Sue Montgomery lifted a deep ball to left field. Freshman Sami Reynolds tracked it down, caught the ball, and hit the wall hard to end the inning.
"We're just used to playing these kind of games," Tarr said. "It's just a one-pitch-at-a-time mindset, playing together, having fun, doing what we need to do to win the game."
The win ended a day that saw the Dawgs begin play 10 hours ago, wait out a three-hour weather delay, and win twice. Now, the UW is on to face No. 2 UCLA in the semifinals, where it'll have to win two games in one day yet again.
"This team is a pretty special team in that they're still growing and they're still learning and they're students still competing together," Tarr said. "To be able to get through today is tough, but it's just what we do. We're tough. The tougher it gets, the better we play, and that's really all I can say about it."
Reach Sports Editor Josh Kirshenbaum at sports@dailyuw.com. Twitter: @J_Kirshenbaum
Like what you're reading? Support high-quality student journalism by donating here.