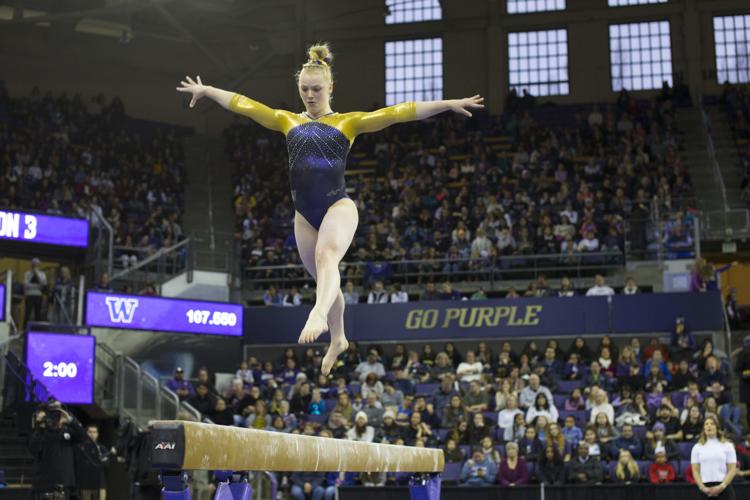 On Wednesday, the No. 19 Washington gymnastics team lost junior all-around competitor Evanni Roberson to injury, forcing adjustments come Friday when the UW hosted Iowa and Sacramento State.
Despite the loss of a key gymnast, the Huskies tied their second-best score of the season, a 196.650, rallying to fill the holes Roberson left in the lineup.
"It is a massive loss for us," head coach Elise Ray-Statz said. "It's awful. But tonight showed that we can still put a good meet together, which was promising."
While Roberson is the No. 22 beam competitor in the country, her absence was most notable on vault. The Huskies listed only five gymnasts in the lineup on that event.
"We don't have a sixth right now," Ray-Statz said. "We have a back-up back-up that we warmed up in the gym today, and if the first five hit we just don't do it. In a precarious place on vault, but that's what we have."
With only five vault competitors, the Huskies still scored a 49.000.
Senior Monica Riley, who competed in the second all-around spot in a few meets earlier this season but left the beam and floor lineups a few weeks ago, returned as Washington's all-around competitor.
She scored a season-high 9.875 on bars and a career-high 9.850 on floor.
"It was really sad, losing Ev on Wednesday, but we know that you don't have to be a superhero to fill her spot," Riley said. "I just wanted to do it for my team and do it for Ev. With or without Ev we're still a great team and we wanted to show that tonight."
With Roberson gone, the Huskies rallied with several season and career highs for one of their better team scores of the season. Junior Madison Copiak tied a vault career high and tied another career high with a 9.925 to win the bars title. She also tied with Malory Rose for the beam title with a 9.875, Rose's best performance in over six weeks.
On the floor, junior Maya Washington scored a season-high 9.900, and senior Kristyn Hoffa added a full-in to her routine and landed it for a 9.925.
"She's a senior and to throw in a new skill your senior year is incredible," Ray-Statz said. "It's really, really hard to do and she nailed it. It was so exciting. I think this team needed that."
Hoffa hasn't competed a full-in, a full-twisting double back with the twist in the first flip, since her senior year of high school. She's wanted to add it to her floor routine since her freshman season at the UW, but injuries held her back until now. With only a few weeks left of her college career, she finally achieved her goal.
"It's so awesome," Hoffa said. "I could have not asked for a better way to finish out my career."
Roberson usually leads by example for the Huskies, but her leadership was still felt from the sidelines, where she stood with the money gun, congratulating her teammates for successful routines.
The Huskies will return on Sunday to host Southern Utah. Their lineup may change yet again against the Flippin' Birds as junior Michaela Nelson prepares to return from a knee injury to the floor lineup after coming back to bars and beam a few weeks ago.
Reach Social Media Editor Hailey Robinson at sports@dailyuw.com. Twitter: @haileyarobin