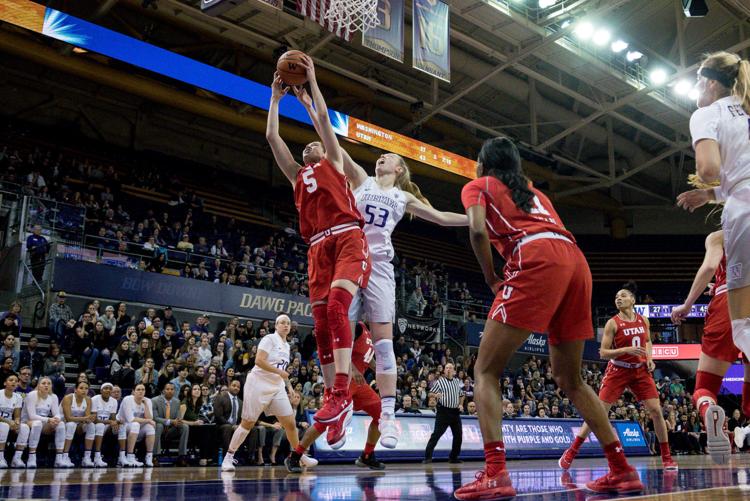 The Washington women's basketball team lost to Utah 58-43 in a game that was dominated by the Utes in the paint and transition points.
To start the game, the Huskies (8-9, 1-4 Pac-12) looked frazzled on offense, commiting seven turnovers compared to Utah's three. Head coach Jody Wynn was quick to substitute and called an early timeout to try and regroup the Dawgs and gain composure to finish the first quarter. In the end Washington trailed Utah 19-12.
In the second quarter, the game seemed to be in junior guard Amber Melgoza's hands as her shot was hot. She finished with 12 points in the first half. With Melgoza shooting well, the Huskies cut the Utes' lead to three at one point, but Utah dominated the UW in transition on both offense and defense. Going into halftime Washington was down 39-24 in a low energy quarter that lacked defensive effort and patience on offense.
"Communication and effort," Wynn said. "For whatever reason it wasn't there. I credit Utah they just ran it down our throats and got layup after layup after layup. It's not like they were scoring the ball from the perimeter or doing anything fancy. They just got point blank layups."
To start the second half the Huskies man-to-man defense seemed to be breaking down as they allowed the Utes(15-1, 4-1 Pac-12) to control the paint and scored almost solely off layups. Utah forward Megan Huff was a force down low that the Huskies seemed to not be able to stop; she finished with 25 points and 12 rebounds.
"We need to somehow still have the stomach for the fight," Wynn said. "To get stops instead of just want the ball back or hope-they-miss defense."
In the final quarter, the Huskies switched up their defense and went into a zone in effort to stop Utah from continuing to dominate in the paint. In the end, 46 of Utah's 58 points came in the key, and 20 were scored in transition.
"It's not who we are it's certainly something we can fix," Wynn said. "But we have to have attention to detail in transition and you have to communicate."
Sophomore guard Missy Peterson contributed seven for the UW. Freshman forward Darcy Rees added six.
Next, the Huskies will head to California where they will take on Stanford on Friday.
Reach reporter Madison MacPhee at sports@dailyuw.com . Twitter: @madison_macphee
Like what you're reading? Support high-quality student journalism by donating here.