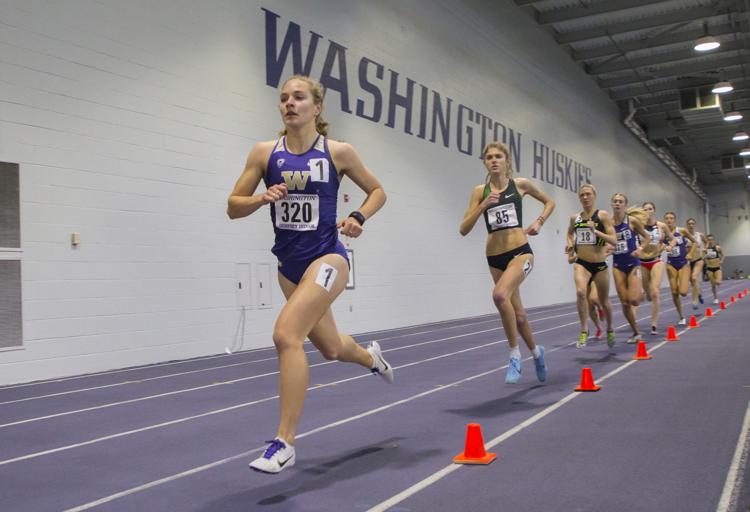 After only sending four athletes to nationals last year, 12 athletes will be competing in 13 events in Austin, Texas for the NCAA Track and Field Championships. When Director of Track & Field Maurica Powell and head coach Andy Powell took the helm, they wanted their athletes to learn from their experiences and work hard to maximize their potential. Both have been impressed by how quickly the athletes trusted their approach.
"It's been fun because they were so excited to learn," Andy Powell said. "I think they started to see some good results, but they were just really quick to buy in and trust us, and that was a really cool thing."
At the beginning of the season, the Powells knew each athlete wanted to make these qualifying marks. However, they made it clear that the athletes' mindset had to be about the team to lessen the pressure on themselves. Each athlete was quick to buy into that idea as well.
"They just needed to understand what it takes to have a good team," Andy Powell said. "That's what's cool about having a large group going to these meets is that it's a reminder that we're trying to be one group instead of a bunch of individuals. The more we're a team, the less pressure each athlete puts on themselves."
Ever since the athletes have used these two principles, Washington has seen immense improvement throughout the season. Athletes have written 30 new marks into the all-time Top-10 lists and 45 athletes went to NCAA prelims this season.  
Despite the stakes the national meet presents, Maurica Powell has emphasized the importance of reminding each athlete how they got there. She wants each athlete to continue being consistent.
"The kids that do best in the NCAA meet are the people who figure out how they can be successful in each meet leading up to the national meet, and continue to do that well," she said. "Sometimes athletes start pressing a bit when they see an improved field, when in reality they just have to be consistent."
By simplifying each athlete's approach to each meet, the Powells have helped all 12 athletes that qualified realize that nationals is just another meet at which to have fun.
"For all these kids, this is the most fun time of the year," Maurica Powell said. "If anything, the regionals and the other meets leading up to the NCAA meet are really grueling and hard to qualify for. This meet is really just an opportunity to go out and have fun, and do your best."
Reach reporter Daniel Li at sports@dailyuw.com. Twitter: @Daniel_Li7
Like what you're reading? Support high quality student journalism by donating here.