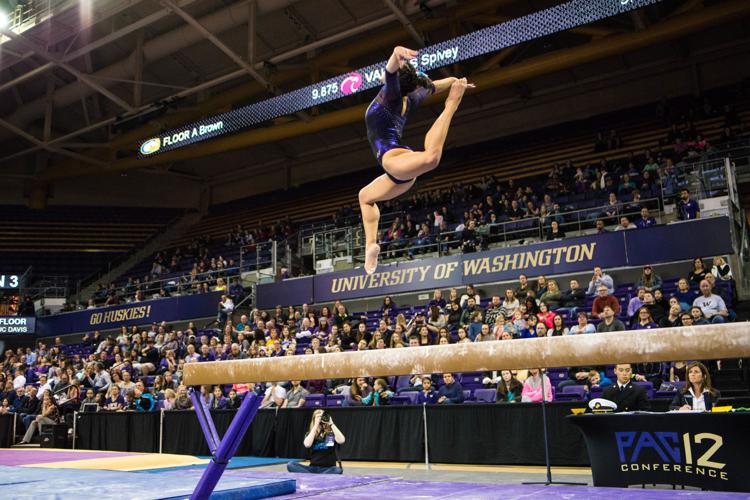 Gaining momentum as the regular season comes to a close, the Washington gymnastics team climbed to the No. 8 spot in the rankings — the same spot it finished in at the National Championship last year — with hopes of climbing even further. On Thursday at 6 p.m., the Huskies will host No. 16 Boise State and No. 19 BYU for Senior Night.
"Being a senior, it's my last time in Alaska Airlines [Arena]," Hailey Burleson said. "I kind of want to end it with a bang and continue to build up my confidence and build on the previous meets we've done."
The Huskies will honor Burleson and fellow seniors Joslyn Goings and Zoey Schaefer, as well as student coach Emily Liddle. Liddle made the transition to student coach after competing with the team for her freshman and sophomore seasons.
"It's been weird to have her change roles, but at the same time, it's so nice to have her in that role next to us the whole way," Schaefer said.
In the four seniors' freshman season, the Huskies placed sixth at NCAA regionals and third the year after that. Last year, they were part of a Washington team that made the school's first NCAA tournament in 19 years.
"When we were freshmen coming in, we had no clue," Burleson said. "It's just been awesome to be a part of making the program better."
This year, they want to go even further, and make the Super Six. At their current No. 8 spot, it's definitely a possibility.
"I'm really pumped for where we are right now," Goings said. "Last meet we got a 197.400, but we still haven't had our meet. That's really exciting to hold onto, that there's still much more within our whole team."
This season, every meet has been focused on finding ways to improve. The Huskies have improved on their previous season-high score in all but two meets, and have surpassed their best performance from last season by .225. Burleson has been one of the many gymnasts at the forefront of that, with career-highs on beam, bars, and all-around this season. In the past three weeks, Goings has had two 9.900s on the beam, and Schaefer's consistency on floor has helped the Huskies solidify those two apparatus as their top events.
"Senior night is all about our four wonderful seniors and celebrating all they've done for UW gymnastics," head coach Elise Ray-Statz said. "Competing for them will be an honor."
Despite a season-high 197.400, which ranks them among the highest scorers in college gymnastics, the Huskies still see places where they make each individual score higher and achieve the full meet they feel that they're capable of.
"We still have room to improve, and we know where we can improve, and we are improving there," Schaefer said. "It's exciting. I know we're going to come out this weekend strong, and it's going to be really fun."
Reach Managing Editor Hailey Robinson at sports@dailyuw.com. Twitter: @haileyarobin