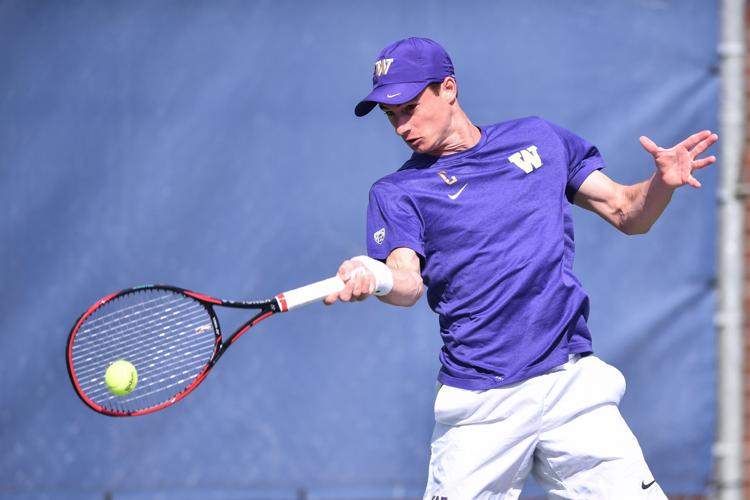 The Washington men's tennis team battled in a back and forth affair against their rival from Eugene but were ultimately unable to close it out as Oregon won 4-3.
The Huskies (10-9, 0-3), still searching for their first Pac-12 win, just could not finish off a few crucial points in multiple matches this afternoon.
"I know with their team we have to be ready for all kinds of things, on and off the court and thought our guys did a pretty good job with that," head coach Matt Anger said. "We played hard, and we gave our self some opportunities, but we didn't take advantage of all the opportunities."
The two most significant missed opportunities were by sophomore Amit Batta and freshman Alexis Alvarez. Both players won their first sets 6-4 before being forced to a tiebreaker in the second set, which they lost to go to deciding sets.
Alvarez had to deal with a little bit of added adversity in his tiebreaker with a few calls that went against him.
"I don't think in my life, which is a fair number of years, that I have seen only two foot fault calls in an entire match and both on the second serve in a tiebreaker," Anger said. "I guarantee I've never seen that. That's a strange situation, and it's hard to describe. He lost the tiebreaker 7-4, so you take those two points and it's 6-5 Alexis."
Batta was unable to bounce back from the emotional tiebreaker as he lost 6-1 to tie the score up at 3-3 on the afternoon.
This meant that the match came down to Alvarez. He dropped serve to open the set but immediately broke right back to tie it up. Each player held serve the next couple times through until Alvarez picked up a huge break to go up 4-2 with serve. Things started to turn after that as Alvarez immediately dropped serve and was ultimately unable to pick up another game as he lost 4-6, 7-6, 6-4.
The pressure and the stage of having everyone watching him was a good experience for the freshman to prepare him for his career at Washington.
"Alexis is all heart," Anger said. "It was his birthday yesterday, and most of the team took him out to dinner last night. I think when he is out there playing for us that the guys are happy to see him out there. I think he thrives in these moments, even though today he ultimately wasn't able to finish.
The Huskies will have to regroup as they host two tough foes this weekend starting on Friday at 5 p.m. against Arizona.
"We've been going a fair bit, we had the two matches on the road and then came back and had a midweek match with Santa Barbra, which was a long, tough match as well," Anger said. "All these conference matches are emotional, and this was no different. We'll take tomorrow off, and then we have the Arizona schools coming in next weekend."
Reach reporter Kyle Gehler at sports@dailyuw.com. Twitter: @KyleGehler