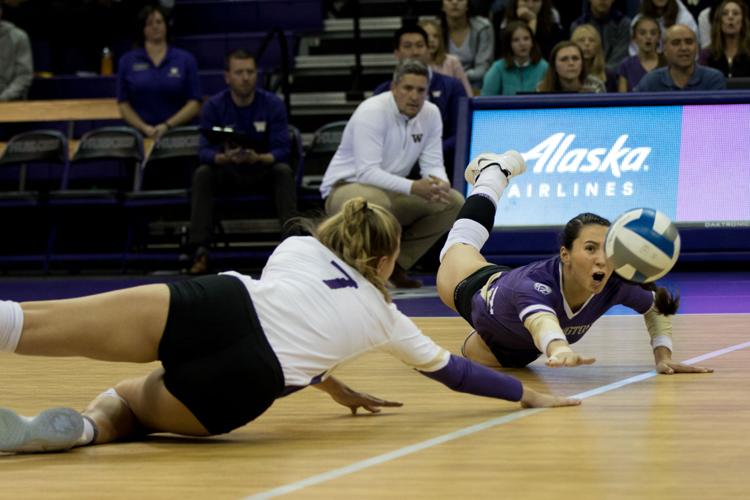 The Washington volleyball team came out swinging, but couldn't get the job done against yet another Big Ten team in the NCAA tournament, battling to keep each set close but not managing to pull out any wins in a 26-24, 25-21, 25-21 sweep by No. 8 seed Penn State in the Sweet Sixteen.
Penn State was an unfamiliar opponent, with only sophomore transfer Samantha Drechsel having faced them before. The Huskies (20-13, 10-10 Pac-12) hadn't met Penn State since 2013, where the Nittany Lions (26-7, 14-6 Big Ten) swept them in the Final Four.
Penn State outside hitter Taylor Leath was on fire against the Huskies, hitting .478 with 12 kills. Washington didn't seem to be able to stop her, only managing to block her once. The Penn State defense was equally strong, with libero Kendall White putting up 16 digs.
Junior Kara Bajema led the Dawgs with 13 kills, though she only .139 on the night. Dreschel added nine. Sophomore Lauren Sanders hit .364, with six kills on 11 attacks. Junior middle blocker Avie Niece led the way at the net with five blocks.
Washington got off to a strong start, hitting .333 in the first set. With Penn State coming out with the same intensity, it was close to begin with, tying 10 times over the course of the first set. The Huskies got a late lead, 23-22, but couldn't hold on.
That was the story of the game, as the UW held its own against PSU, but not when it mattered most. In the second set, again, it stayed close until the very end. While the Nittany Lions had the slight edge thanks to Washington hitting errors, the Huskies stayed in contention for most of the set but couldn't finish it out.
The third set seemed like a turning point for the Dawgs. After the first kill by Penn State, the Huskies scored five straight points for a lead that they maintained until far into the set. Then, a seven-point run turned things around again 19-17, this time in Penn State's favor.
While the Washington receive was successful for most of the match, only allowing one ace per set for the first two, two aces sealed the Huskies fate, putting them down an insurmountable four points.
The loss ends Washington's postseason run, and the first trip to the NCAA tournament for the large number of freshmen on the roster. The Huskies are set to only lose senior Destiny Julye to graduation.
Reach Social Media Editor Hailey Robinson at sports@dailyuw.com. Twitter: @haileyarobin