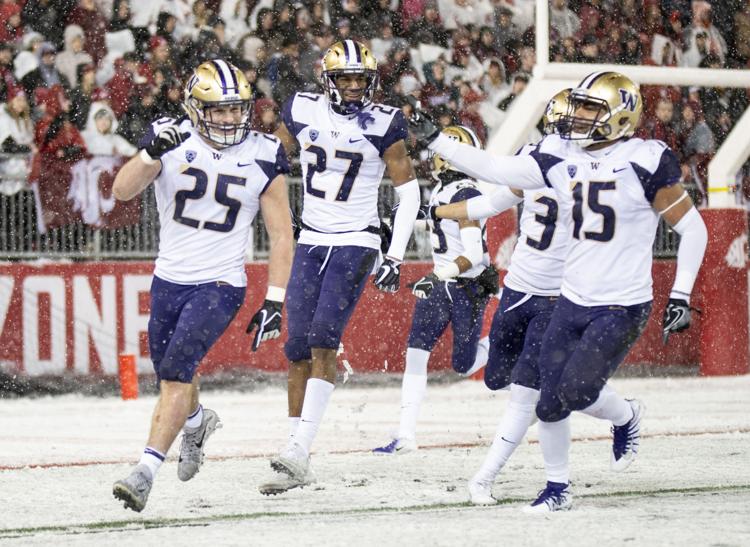 So that's that, yeah? The No. 16 Washington football won when it needed to, going into a snowstorm in Pullman and pulling out a 28-15 win over No. 8 Washington State. The Huskies (9-3, 7-2 Pac-12) clinched the Pac-12 North with their sixth straight Apple Cup win, and will play for a place in the Rose Bowl next Friday in Santa Clara, Calif., against No. 17 Utah. But first, let's go over a few notes.
Okay, now Jimmy Lake is just showing off
The Washington defense and coaching staff don't bother trying to hide it: they absolutely love playing against Washington State and Mike Leach's air raid. And in Chris Petersen's five years in Seattle, the Dawgs have had more success against it than any other team.
In the past five seasons, WSU has averaged 405 passing yards per game against everyone except Washington, but has averaged just 287 in Apple Cups. The Cougars have thrown an even 200 passing touchdowns in that span, but just five have come against the Huskies, including none this past Saturday. All of this despite the fact that WSU's completion percentage against the UW is just a shade under its total rate; Washington State is completing its passes, but Washington has eliminated the downfield game and any yards after catch.
And this season in particular, defensive coordinator Jimmy Lake kind of went wild with his gameplan.
Washington has played around with personnel groupings all year, going away from its base 2-4-5 nickel package more than in seasons past. But against a WSU offense that has consistently thrown the ball more than anyone else, Lake let his defensive backs shine.
By my count, Washington lined up defensively 63 times Saturday. For over 80 percent of those, the Huskies had six defensive backs on the field, with two middle linebackers and some combination of three edge rushers and tackles.
This strategy relied in part on two things: WSU's near-addicted desire to throw the ball, and Washington's ability to win at the line. Sometimes, the defense didn't even put a single man in the box, like this:
WSU needed just two yards and had a 5-0 man advantage on the line of scrimmage. Washington still managed to stop the runner short.
But most importantly, Washington held WSU to almost nothing after the catch nearly all game long. Gardner Minshew went 26-of-35 on the night, but only averaged 4.34 yards per attempt, while all six of Washington's starting DBs ended the game with multiple tackles.
After the game, Lake didn't exactly hold back.
"We know what type of offense we're playing," he said. "They do the same thing year in and year out. This is five years in a row now. It makes it really easy to gameplan when an offense does the same thing every year."
How to end a game
Down two possessions on his own 43-yard line with just under nine minutes to go, Mike Leach did the sensible thing on fourth-and-10: he punted, forcing Aaron Fuller to catch punt in a snowstorm and then making the UW offense work deep in its own territory.
The punt flipped the field pretty effectively, giving the Huskies the ball at their own 17-yard line with 8:47 to go in the game.
WSU wouldn't get the ball back.
The UW offense executed a 14-play (all runs) drive to kill the rest of the clock, working it all the way to the WSU 5 before taking one final knee.
"We were trying to eat some clock and get a first down or two, and the guys just kept making plays," Petersen said. "I think a lot of times it starts with keeping those linemen covered — and they're going to pack it in there — and the running backs are going to have to do something. Salvon and Myles both were able to bounce some things and get some key, key first downs."
Other notes
- Your requisite Ben Burr-Kirven watch: 10 tackles, a fumble recovery, and an interception. Ho-hum.
BBK is now tied for first in the country with 155 total tackles. Everyone else in the top five has ended their seasons already, meaning Burr-Kirven is almost guaranteed to end the year in sole possession of first place. Eight more will tie him for the 10th-best season in UW program history.
- It was a matchup between Jake Browning and Gardner Minshew, and the only passing touchdown was thrown by Aaron Fuller, because sure, why not? It may have been the ugliest pass by a UW receiver in the past few seasons, but it worked, and that's all that matters to the Huskies.
"[I told him], 'Great job, you got it to him,'" Petersen said.
- As tough as having a Friday game may have been last week, now it's a blessing. Washington just has to shift its normal practice schedule up a day and have a normal week in preparation for the Pac-12 Championship Game this Friday at Levi's Stadium in Santa Clara, Calif. Utah, on the other hand, played a normal Saturday game this past weekend, giving it a short week to work with.
Reach Sports Editor Josh Kirshenbaum at sports@dailyuw.com. Twitter: @J_Kirshenbaum
Like what you're reading? Support high-quality student journalism by donating here.