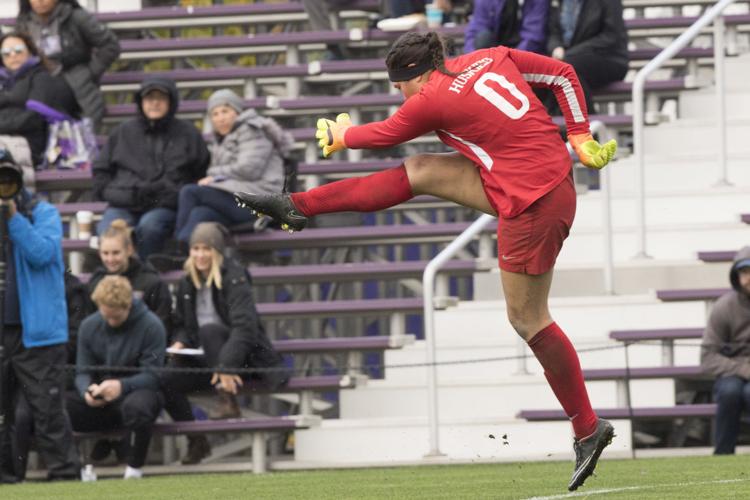 At the beginning of the season, the Washington women's soccer team said they wanted to be a defensive-minded team, and keeper Siena Ruelas has embraced her role as the last line of defense.
Coming into the 2018 campaign, Ruelas had not seen any play time in the net, largely due to the team's former keeper: Sarah Shimer. During her final year at the UW, Shimer set the school's single season record for shutouts at 11, and posted the second lowest goals-against average in UW history behind Hope Solo.
Ruelas waited two years behind Shimer and was ready when her name was called. In just her first start, she tallied seven saves against the No. 7 team in the nation and was named Pac-12 Goalkeeper of the week.
"[In the offseason] I knew I had the opportunity to fill in some big shoes left by Sarah Shimer, so I was just really working on fitness, whether it was running every day, or just doing the little things like passing against the wall," Ruelas said.
Following the season opener, the junior put together a stretch of seven games in which she only allowed five goals, and helped the Huskies to a 5-1-1 record to close out nonconference play.
Since the beginning of Pac-12 play, Ruelas and the rest of the UW defense has had difficulties keeping opponents out of the back of the net. The team has only forced two shutouts and has averaged 1.5 goals allowed per game in conference play.
"I think moving forward she can start thinking even more steps ahead," associate head coach Amy Griffin said. "Right now she's maybe thinking one pass away, and the more experience you get, you can start thinking three passes away, and where the hole's starting to open, and stopping it before more dangerous situations happen."
Ruelas has secured 68 saves this season. With just one game remaining, it's unlikely she'll crack the UW top-10 for saves in a season, but its been more about the quality of the saves than the quantity.
"She's done a really good job in pressure situations, there have been a lot of saves that have kept us in the game, not the run of the mill saves, but when our numbers are down in the back, she's come up in really clutch moments," Griffin said.
Washington now closes out the regular season, with a rivalry match at Washington State on Friday, Nov. 2 at 7 p.m.
Reach reporter Josh Eddy at sports@dailyuw.com. Twitter: @JoshTreEddy