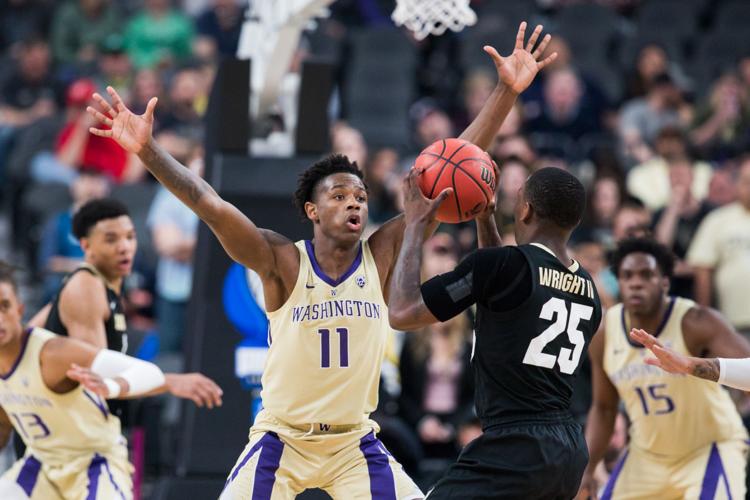 In yet another dominant performance for the Huskies, the Washington men's basketball team defeated the Siena All-Stars in Italy 97-39 to finish their foreign tour 4-0. 
After allowing 15 points through the first quarter, the Dawgs clamped down in the last three, allowing just 24 points the rest of the way. 
The Huskies were led again by Isaiah Stewart (13 points) and Nahziah Carter (20 points) in scoring, and the pair also grabbed 12 and 11 rebounds, respectively. Carter was strong in particular on Tuesday, showing a smooth stroke from outside and hitting five three-pointers. 
Now with their foreign tour in Italy behind them, here are some of my notes, observations, and takeaways from the four games played in Rome, Pistoia, and Siena. 
Offense running through Stewart, Carter
In all four games of their foreign tour, the Huskies' offense was guided by Stewart in the post and Carter from the wing. While Stewart was a dominant force in the low post, Carter was a force creating his own shot from the wing, driving to the paint, or making threes with consistency. 
Through four games, the duo led the Huskies in scoring, with Carter scoring 73 points and Stewart scoring 78. But all of that could change with the inclusion of a certain 2019 five-star recruit coming into the fold once regular season play starts. 
How does Jaden McDaniels fit in?
Despite staying home in Seattle for personal reasons (he was seen working out with Noah Dickerson at UW on social media), the 6-foot, 9-inch forward will definitely be a factor come late this fall when UW tips off their regular season schedule. McDaniels has drawn comparisons to Kevin Durant, due to his tall stature and guard-like ability from the wing, and given Hameir Wright and Isaiah Stewart's play from the foreign tour, I suspect if McDaniels starts, it'll be there. 
Head coach Mike Hopkins likes Wright for his defensive ability, and it's safe to say Stewart will continue to start given his dominant play in Italy. The other starters from the weekend were Carter and guards Elijah Hardy and Jamal Bey. That lineup looked almost unstoppable on this tour, granted against subpar competition. If McDaniels does start, I'd predict that he'd push Carter or Bey out of that starting lineup to provide a scoring threat off the bench. 
That's not to say that McDaniels won't play any frontcourt -- he certainly has that ability and has shown that he can be an elite rebounder and player down-low. I just think if he starts, it'll be from the wing. 
Other notes
- Freshman Marcus Tsohonis had a very strong foreign tour in his first action in the purple and gold, and looked very confident at the lead guard spot off the bench. While his shot looked a little funky on the FloHoops stream, Tsohonis was effective from three-point range and showed he could distribute creatively in the halfcourt, accumulating six assists in the UW's most recent game against Siena.
- The Huskies are bringing some significant size off the bench this year with redshirt freshman Bryan Penn-Johnson and Nate Roberts showing a little bit more of a refined game in their second years in the program. Both were effective in spurts in Italy, with Roberts showing a great motor in grabbing offensive rebounds for extra chances. 
- While he struggled at times, freshman Raequan Battle is a very intriguing wing prospect for the Huskies. The four-star sharpshooter was comfortable taking threes from anywhere on the court, but was most effective coming off screens for open looks. He has shown an ability to score with the ball in his hands, but perhaps Battle is primed for a Dominic Green-esque role in 2019 as a three-point threat off the bench. 
Next up
Washington will open their season on October 31 against Western Washington in an exhibition game at Alaska Airlines Arena, before taking on Baylor in the Armed Forces Classic in Anchorage, Ala. on November 8. 
Reach Sports Editor Alec Dietz at sports@dailyuw.com. Twitter: @AlecDietz
Like what you're reading? Support high-quality student journalism by donating here.